Market Place
Editor's choice
The AffirmoEX benchtop EMR system for industry and academia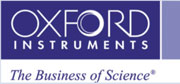 Oxford Instruments' latest benchtop analyser provides free radical and transition metal oxidation state information. electron magnetic resonance (EMR) is a unique technique in making these important measurements in the world of chemistry. An invention established 60 years ago and also known as EPR or ESR, Oxford Instruments' AffirmoEX uses the latest magnetic materials coupled to RF electronics developed for mobile phones to provide a small footprint, low cost system which is straightforward to use with no cumbersome cooling requirements.
Processes such as oxidation and degradation involve free radicals. For example, measure the rancidity of cooking oils or look at lubricant lifetime using EMR.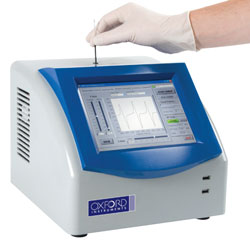 While this X-band system has research performance, it is designed to deliver specific solutions for applications in industry. And, it is also available with a specific education package to teach students about the potential of EMR as part of their chemistry curriculum. Led by professor Reef Morse, formerly of Wayne State University, the AffirmoEX is available with a modular teaching package providing education on the technique with simple, interesting examples to excite students to learn and apply this fundamental technology.
Talk with Oxford Instruments to discuss your specific applications needs.
Contact details: e: magres@oxinst.com t: +44 (0)1865 393200
Analytica - Hall A2 booth 133/232
Editor's choice
Sensitivity is key: aurora M90, the ICP-MS workhorse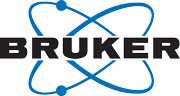 The new aurora M90 from Bruker revolutionises interference management in ICP-MS. The ingenious interface design removes interferences at their origin; thereby preventing them from accessing the mass analyser. This means that only analyte ions are focused into the mass analyser - delivering class-leading sensitivity of up to 1000kcps/ppb (115In), which is unmatched by any other quadrupole ICP-MS. Now, the most challenging samples can be routinely analysed using simple one-button operation. Even highly complex sample matrices - such as seawater or bodily fluids - can be sufficiently diluted without sacrificing detection limits. Additionally, high matrix samples can be prepared by fully automatic aerosol dilution, avoiding contamination by aqueous dilution. The aurora M90 is the ideal tool for high sample throughput demands: high performance with a robust and easy-to-maintain design that offers maximum uptime with minimum user interactions.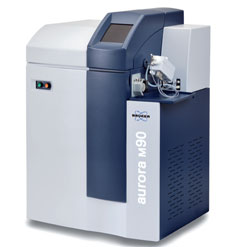 Perfectly suited for coupling with laser ablation devices, aurora's sensitivity is key to detecting ultra-traces in solid samples at small spot-sizes; enabling efficient sample analysis in a range of applications, including geochemistry, material characterisation, and forensics.
For more information contact sales@bdal.de
Analytica - Hall A2 booth 331/432
Featured product
Connect and solve chromatography challenges via social media!
Thermo Fisher Scientific is pleased to announce chromatography-focused social media for the benefit of customers and industry leaders. The first phase provides three tools to stay current in today's fast moving online world.
Follow us on Twitter (@ChromSolutions ) where we tweet breaking industry news and our latest applications, methods, and solutions.
Subscribe to our Chromatography Solutions blog to go deeper into the discussion and join the conversation on chromatography. We blog about the latest applications, articles, and research; and our Chromeleon chromatography data system (CDS) software.
Visit, view, and subscribe to our ChromSolutions YouTube channel for how-to and informative videos as well as on-demand webinars on chromatography applications.
Analytica - Hall B1 booth 101/202
These companies - plus many more that regularly appear in Marketplace - will exhibit at Analytica in Munich, Germany, 17-20 April. The international trade fair and conference attracts 32,000 visitors from over 120 countries. This year 994 exhibitors will fill 55,200mē, while over 170 events will take place at the conference and forums.
For the first time ever, Analytica 2012 will also feature completely equipped laboratories with daily live demonstrations. From sample preparation and measuring to evaluating the results: visitors will be given a compact look at the latest processes and techniques. The labs are themed as forensics and clinical diagnostics; plastics analysis; and food and water analysis. On the first day Germany's best-known forensic biologist, Mark Benecke, will demonstrate how the latest DNA analysis techniques can be used to draw conclusions about crimes and/or criminals.
Related Links
Oxford Instruments
The AffirmoEX benchtop EMR system
Thermo Scientific
Chromatography solutions
Youtube
ChromSolutions
External links will open in a new browser window