Market Place
Featured product
Anton Paar Monowave 300: microwave synthesis reactor
The Anton Paar Monowave 300 monomode microwave reactor opens up pathways to completely new reaction routes in small-scale applications.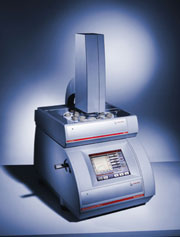 In addition to unique temperature and pressure limits (300°C and 30 bar) it offers simultaneous IR and fibre optic temperature control for accurate reaction monitoring and safe process control. With four vial sizes ranging from 4-30ml allowing for a small-range scale up with easy-to-handle, durable caps and silicone seals assure reduced cost of consumables.
The combination of highest safety standards, utmost accuracy, impressive performance and handling convenience make the Monowave 300 a powerful tool for microwave- assisted synthesis.
For further information visit the website.
e-mail info.gb@anton-paar.com
Featured product
Capillary ion chromatography tips and tricks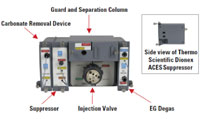 Thermo Fisher Scientific announces a new technical note to assist in ensuring good chromatographic results as system volumes are reduced for capillary ion chromatography (IC). Capillary IC separates ions using 0.4mm diameter columns at 10-30 ul/min flow rates, provides increased mass sensitivity, reduces water consumption and reduces waste generation to only ~5l per year.
TN 113: Practical Guidance for Using Capillary Anion Chromatography includes techniques for plumbing and flushing the system, and procedures for performing trace analyses, including direct large loop injections and concentrator column installation and loading. Find the technical note at Thermo Scientific web site under the documents tab. Read more tips and tricks online.
High pressure ion chromatography
Thermo Fisher Scientific has launched the ICS-4000 - an integrated capillary high-pressure ion chromatography (HPIC) system. The company says the ICS, the first device of its kind, offers high speed without compromising chromatographic resolution for routine analysis. And when more precise measurements and higher throughput are needed, the ICS-5000 is available. The device incorporates a capillary system that works continuously at 5000psi with micrometre particle-size capillary columns. The system can be left in an 'always on, always ready' state because the capillary ion chromatography only consumes 15ml of water per day, equivalent to 5.2l per year. Furthermore, the eluent generation cartridge producing the eluent lasts for 18 months under continuous operation. The IonPac capillary columns (0.4mm) are packed with the same material as the regular analytical scale versions.
Cabinet lab washer
Miele has launched the PG 8527, a large cabinet washer, which it says incorporates several innovative features to make cleaning glassware safer and more convenient. The washer features freely programmable controls and a touch screen display, all housed within a flush glass screen for simple surface disinfection. The spray arm control unit monitors and documents the rotational speed of spray arms in both the cabinet and on board mobile units and baskets. Loading mistakes resulting in an obstruction of the spray arm are detected at the start of the programme. Furthermore, the system checks to ensure that rotational speeds are within defined ranges.
Membrane sample preparation
Merck Millipore has brought to market the Direct Detect biomolecular quantitation system, which uses a membrane technology for sample preparation and infrared-based measurements of amide bonds in protein chains. The company says that the system overcomes the limitations of traditional protein quantitation methods, such as Lowry and Bradford assays. The samples can be stored in ambient conditions once spotted onto assay cards, without significantly affecting the readouts. In addition, the Direct Detect calibration curve only has to be generated once. Specifically, the system employs a hydrophilic polytetrafluoroethylene (PTFE) membrane designed to transmit radiation in most of the infrared spectral region and enable direct application of biomolecule solutions. It can measure protein concentrations from 0.2mg/ml to 5mg/ml within seconds, without any bio- or immunochemical staining, directly from samples, including buffered solutions.
Quaternary HPLC
Agilent has brought to market the 1290 Infinity Quaternary liquid chromatography (LC) system, which the company says is the first quaternary high pressure (HP) LC system to deliver the accuracy and precision of binary systems. At the heart of the device is a new pump that offers a maximum pressure of 1200 bar and a maximum flow rate of 10ml/min. It also incorporates active damping and high resolution pump drives, as well as Agilent microfluidic technology, making it suitable for use with the Agilent Intelligent System Emulation technology. The user can generate spectra at up to 160Hz.
Reverse phase LCGC with carbon dioxide
Waters is offering the Acquity UPC(2) reverse phase liquid chromatography (LC) gas chromatography (GC) system. The company says the device is particularly suitable for 'tough to analyse' compounds, including hydrophobic and chiral compounds, lipids, thermally-labile samples and polymers. The primary mobile phase for the device is compressed carbon dioxide, in contrast to the liquids and carrier gases used for conventional LC and GC. Carbon dioxide, whether on its own or combined with another solvent, is a low viscosity mobile phase that leads to higher diffusion rates and enhanced mass transfer. In addition, carbon dioxide facilitates separation at a much lower temperature.
Four detector GC
Bruker has launched the Scion gas chromatography system, available across a range of devices. The 436-GC and 456-GC can capture data at >600Hz per channel. Meanwhile, every Scion device benefits from a nine inch touch-panel designed for use in up to 13 languages. The Scion 436-GC is a compact two injector two detector platform that supports all the injectors and detectors including mass spectrometry. The Scion 456-GC supports three injectors and four detectors, including the mass spectrometer. According to Bruker, it is the first system to simultaneously capture data from four detectors including a mass spectrometer.
Related Links
Anton Paar
Monowave 300: microwave synthesis reactor
Thermo Scientific
Capillary ion chromatorgraphy tips and tricks
Thermo Scientific blog
Chromatography solutions
Miele
Miele has launched the PG 8527, a large cabet washer
Merck Millipore
Introducing Direct Detect, the first infrared (IR)-based biomolecular quantitation system
Agilent Technologies
1290 Infinity Quaternary LC System
Waters
LCGC
Scion
Four detector Gc
External links will open in a new browser window