18 July 2005: New nuclear institute aims to address skills shortage
The UK is taking a step to restore its battered capability in nuclear research with today's launch of a new institute at the University of Manchester that aims to plug a serious shortage of skills in the nuclear industry.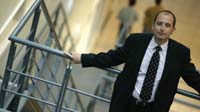 Richard Clegg, University of Manchester, UK
The Dalton Nuclear Institute will pull together nuclear research at Manchester and aims to take a leading role in co-ordinating nuclear science and engineering research across the UK, as well as playing an active part in international collaborations. The institute is working closely with industry to identify and address shortfalls in expertise.
'The state of nuclear skills in the UK is extremely fragile because for several decades the country has under-invested in skills with public money, and the industrial sector has gone through a number of successive privatisations and reorganisations,' said the institute's director Richard Clegg. 'We have taken our eye off the ball. There is a growing recognition that there is a skills gap problem. Regardless of future energy policy, we need skilled personnel for activities such as decommissioning. That is what is driving this initiative.'
The institute will act as a focal point for the revitalisation of nuclear research in the UK. 'Across the UK there has been a significant decline in the UK's capability in nuclear research, but Manchester has managed to retain a good capability,' Clegg, previously director of science at British Nuclear Fuels, told Chemistry World.
The work of the institute will encompass the range of nuclear research, from radiochemistry and nuclear medicine to materials performance, decommissioning engineering and policy and regulation.
The institute is not a dedicated research facility per se, but an over-arching body that will co-ordinate research into a coherent strategy. 'The field of nuclear is truly interdisciplinary and much of the capability already exists in schools across the university,' Clegg said. 'A single dedicated facility would result in unnecessary duplication.'
Initially the institute will have around 50 researchers, including students and postdocs. The aim is to increase this to around 100, with the setting up of new centres of expertise within the university and the establishment of new chairs.
The budget for the institute has not yet been finalised, but Clegg said that the university would be making a 'multi-million-pound investment', with additional funding from government, industry and the research councils.
'Importantly we are not confining ourselves to research related to fission, but to fusion also,' Clegg said. 'The institute will be working at the interface where there is potential for sharing technology and know-how, in areas such as materials science.' Simon Hadlington