Toxic elements in cigarette smoke
25 November 2005
Heavy metals like arsenic, cadmium and lead have been detected in sidestream cigarette smoke, demonstrating that these toxic elements can travel different distances in air flow.
Smoking cigarettes produces upwards of 4000 chemicals; many are toxic and around 40 cause cancer. These compounds remain in the air as environmental tobacco smoke which is inhaled by other people in the area. There are two main types of tobacco smoke: mainstream tobacco smoke that is exhaled by the smoker and sidestream smoke that comes from the tip of the burning cigarette.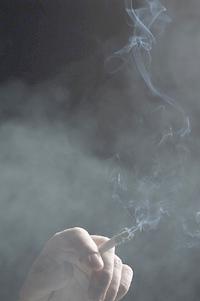 While investigating heavy metals in sidestream cigarette smoke, researchers at tobacco company Philip Morris, US, found a build up of arsenic in the chimney used in the first stage of their collection equipment. This phenomenon was not seen for cadmium or lead. They think that the reason for this is that arsenic could be a liquid vapour while the cadmium and lead are solid particulates.
Michael Chang and colleagues used a device called a 'fishtail' chimney for funneling the smoke from a burning cigarette towards a jet impactor which collected smoke as a condensate. The remaining smoke that had eluded capture was put though a mixed cellulose ester filter to attempt to catch the rest. Different ways were tried of preparing the smoke that had condensed in different parts of the equipment. The best method was slurry sampling, which involved using the detergent Triton X-100 and nitric acid to make a slurry with the smoke condensate. Inductively coupled mass spectrometry was used to analyse the slurry.
The deposition of a larger percentage of the total arsenic (20 per cent), than cadmium or lead (less than 5 per cent) in the chimney shows that toxic elements in cigarette smoke can travel differently in an air flow and can deposit at different points. The researchers think this behaviour is caused by differences between solid (particulate) and liquid (vapour) phase elements.
Wendy E M Crocker

References
M J Chang, K Walker, R L McDaniel and C T Connell, J. Environ. Monit., 2005, 7, 1349. (DOI: 10.1039/b509048b)