Focus on palladium's hydrogen storage potential
29 November 2005
US chemists have used a scanning tunneling microscope (STM) to shine light on the behaviour of hydrogen atoms when absorbed by the metal palladium. Their findings could lead to the development of more efficient hydrogen storage materials and better catalysts.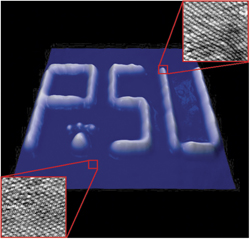 The ability of palladium to absorb up to 900 times its own volume of hydrogen at room temperature has led scientists to develop it as a catalyst for hydrogenation reactions and as a hydrogen storage material. Chemists at Pennsylvania State University, led by Paul Weiss, have now investigated the role of subsurface palladium atoms in hydrogen absorption.
Weiss and his team exposed the surface of a single crystal of palladium to hydrogen and then probed the surface and subsurface atomic layers using an STM. 'We moved the hydrogen atoms underneath the palladium surface [with the STM] and prepared and observed the subsurface hydride that has been hypothesised to be critical to hydrogenation reactions and also important in hydrogen storage and metal embrittlement,' Weiss told Chemistry World.
The chemists found that the hydrogen atoms were able to occupy stable sites in the subsurface palladium layer. But their presence seemed to affect the electronic structure of the surface layer, as if the hydrogen atoms were pushing the palladium atoms apart to make space. This structural change was so great that it prevented further hydrogen atoms adsorbing onto the surface layer, offering a potential way to control the surface properties of palladium.
Jon Evans
References
E C H Sykes et al, Proc. Natl. Acad. Sci. USA (DOI: 10.1073/pnas.0506657102)