Probing for water in protein cavities
25 October 2005
Scientists in Japan and Canada have calculated the likely position of water molecules in a protein, claiming this could lead to better models of drug-protein interactions.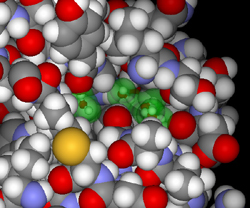 Water molecules in lysozyme cavity (F. Hirata )
Water is intimately involved in generating a protein's structure and determining its activity. Current protein modelling methods have been unable to calculate the location of water molecules, which are often hidden within protein cavities.
The researchers, led by Fumio Hirata from the Japanese Institute for Molecular Science, Okazaki, used a modelling technique known as three-dimensional reference interaction site model (3D-RISM) to identify the location of water molecules in the protein lysozyme.
3D-RISM can predict solvation thermodynamics and provides detailed descriptions of solvent distribution around biomolecules, such as proteins. Locating water molecules within a protein was thought to be beyond the technique's capabilities.
Hirata and his colleagues carried out 3D-RISM calculations for lysozyme immersed in water and obtained the distribution function of water molecules both around and inside the protein. This included a prediction that four water molecules could be found within one of the protein's cavities. These four water molecules had already been detected in lysozyme using X-ray diffraction.
According to Hirata, the technique should also be able to find drug molecules within a protein, by calculating the distribution function for an aqueous solution of the drug. However, Stephen Curry, a structural biologist at Imperial College London, is not yet convinced. 'The finding is certainly interesting and the method shows some promise,' he told Chemistry World. 'However, it is too much to extrapolate from the analysis of just one cavity in one protein and claim that the method is robust and widely applicable.' Jon Evans
References
T Imai et al, J. Am. Chem. Soc. (DOI: 10.1021/ja054434b)