Research spotlight falls on neglected disease
26 October 2005
The University of Dundee, UK is to tackle the issue of neglected tropical diseases with the launch of a £13 million five-year project to develop new drugs for African sleeping sickness, Chagas' disease and Leishmaniasis.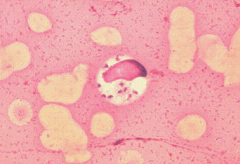 Leishmania donovani in bone marrow cell. CDC/Dr. L.L. Moore, Jr.
The funding includes £8.1 million over five years from the Wellcome Trust, together with funding from the Scottish higher education funding council, the Wolfson foundation, and the university itself.
The aim of the project, say team leaders, is to plug a well-documented gap between academic research into neglected diseases and pharmaceutical application. Researchers will put the drug targets they discover through industry-style compound screening and medicinal chemistry.
A team of 16 scientists, spanning disciplines from biology to drug design, synthesis and testing, will work in the university's recently opened £20 million Centre for interdisciplinary research.