Quick-release store for light
06 July 2006
A collection of chemicals that can harvest the energy of light, storing and then releasing it on demand, has been unveiled by Swiss and German chemists.
The process resembles natural photosynthesis, and improves on previous artificial light-capturing systems that have been much less efficient at releasing their stored energy.
The heart of the energy bank is made from self-assembling stacks of molecules called naphthalene diimides (NDIs), which sit between the inner and outer walls of a hollow, fatty ball, called a lipid vesicle. The NDIs are chemically modified so that they release electrons when hit by visible light, explains Stefan Matile of the University of Geneva, who led the team.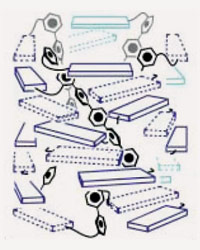 This self-assembled stack of molecules can harvest light to pump electrons into a chemical 'energy bank'
© Science
These electrons flow into the interior of the vesicle, which is loaded with quinone-based acceptor molecules. Acquiring the electron forces this molecule to pick up a hydrogen ion, creating a hydroquinone that effectively stores the light's energy in the newly-formed chemical bond.
The team found that this store could be unlocked by adding dialkoxynaphthalene molecules to the system. These alter the structure of the NDI stacks, transforming them into hollow channels that allow ions to flow through and break down hydroquinone, releasing its stored chemical energy..
However, after being transformed into ion channels the NDIs are useless at absorbing more light: this battery, for now, can only discharge once.
Matile and his team are now trying to improve the efficiency of this system and develop it for practical applications. 'We are now learning how to create our multifunctional nanoarchitecture on gold,' Matile told Chemistry World. 'This is important for practical applications such as photovoltaic devices.'
Jon Evans
References
S Bhosale et al, Science, 2006, 313, 84
17 May 2005: Developing renewable energy

Mexican experts discuss clean energy with G8 representatives
Scientists are taking a leaf out of Nature's book by attempting to harness enough energy from sunlight to carry out useful photochemical reactions. Philip Ball and David Andrews ta...