China suspends coal-to-oil projects
10 September 2008
By Hepeng Jia/Beijing, China
China's National Development and Reform Commission (NDRC) has banned the practice of converting coal to liquid fuels (CTL). But experts say that the move is unlikely to damage China's expanding coal-to-chemicals industry.
The NDRC first issued a circular in August 2006 warning against rushed investment in CTL and recommending that large CTL projects should not be approved. According to a notice posted on its website on 4 September 2008, NDRC has now ordered that all CTL projects - except an ongoing one by Shenhua, China's largest coal producer, and a joint venture between Shenhua and South Africa's Sasol - must be stopped.
The multi-billion US dollar Shenhua-Sasol project, which is still at the feasibility study stage, now needs to get permission for each step of its development, and 'local governments must immediately stop approving CTL projects under any pretext', the NDRC notice adds.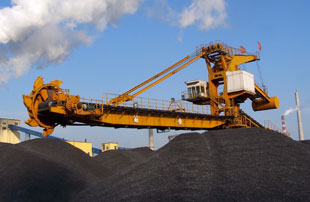 Coal in China is in high demand
© CHINA NEWS SERVICE
CTL can be highly profitable because of high petroleum prices and relatively inexpensive coal. But CTL consumes much more energy than processing petroleum for fuel and releases more carbon dioxide. CTL also uses vast quantities of water, which is a problem because most of China's coal mines are in the dry northwest of the country.
The soaring cost of oil has stimulated investors to pour their money into nationwide CTL projects. 'Many investors divide their big CTL projects into smaller ones, so that they can be approved by local governments eager to get tax revenues from the profitable projects,' says Han Jun, a coal analyst for the chemical industry website Chemsina.com. In China, investments under 100 million yuan (US$14.7 million) can be cleared by provincial governments.
Gao Guang, deputy director for logistics at ENN Chemicals in Hebei Province, considers that CTL's large coal consumption has made government regulators worry about the undersupply of coal for power generation.
Coal chemical technologies convert coal from a solid to a gaseous form using catalysis. The gasified products can be used as fuel for electricity generation or as raw materials for chemical products. 'Unlike the NDRC order in 2006, which also required industries to be cautious in developing coal chemicals, this time the NDRC ban only covers CTL, which is not bad news for coal chemical sectors,' Gao told Chemistry World.
Coal-derived methanol is a major product of China's coal chemical industry and one of ENN's key chemicals. 'The oversupply of methanol has made some coal-based methanol makers try more profitable CTL. Now the ban will force them to focus more on developing derivative chemicals from methanol,' says Gao.
Enjoy this story? Spread the word using the 'tools' menu on the left.
Also of interest
China revives coal chemicals drive

Green light expected for new plants after months of deadlock

Coal chemical projects flourish

Business booms as international oil prices hit almost US$80 per barrel

Related Links
Comment on this story at the Chemistry World blog
Read other posts and join in the discussion
External links will open in a new browser window