Flattening carbon
08 July 2010
UK researchers have managed to synthesise a molecule with an almost planar four-coordinate carbon atom bonded to two lithium atoms and bulky organic ligands.
In organic chemistry, carbon atoms bonded to four other groups are almost invariably tetrahedral, unless they can be sterically forced into other shapes. However, as Stephen Liddle from the University of Nottingham explains, swapping organic groups for alkali metals like lithium stabilises the square planar configuration.
This is not a new idea, Liddle admits, it was shown theoretically in the 1970s by Paul von Schleyer (now at the University of Georgia in Athens, US), and several groups have since made molecules that could be described as containing planar four-coordinate carbons. But Liddle points out that all of these examples are based on cis Li-C-Li arrangements, where the two Li atoms are 90° apart, and the majority aggregate as dimers, which can make interpreting their bonding somewhat ambiguous.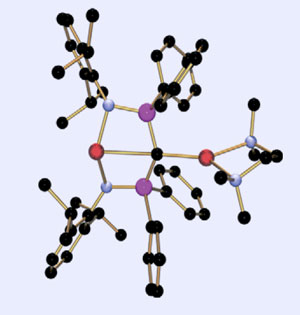 The central carbon (black) is bonded to two Li atoms (red) and two P atoms (purple) in a distorted planar arrangement
'What's special about this compound is that it's monomeric,' says Liddle, 'so there's no question of which lithium atoms belong with which carbon.' He adds that the lithium atoms are also unusually trans related across the carbon centre. However, Liddle recognises that the structure is far from being a 'perfect' planar carbon, and adds that the group used computational model calculations to convince themselves that both lithium atoms were really interacting with the carbon atom. 'When it comes to the nature of the bonding, like most things in reality it's not black and white,' Liddle notes.
Robert Mulvey, an expert in organolithium chemistry from the University of Strathclyde, UK, praises the simplicity of the discovery - particularly the team's use of N,N,N',N'-tetramethylethylenediamine (TMEDA) to both boost the strength of their lithium base and discourage the final complex from aggregating. 'This breakthrough will appeal to experimentalists and theoreticians alike,' adds Mulvey, 'and will no doubt stimulate more activity in the pursuit of novel organometallic structures.'
Phillip Broadwith
Interesting? Spread the word using the 'tools' menu on the left.
References
O J Cooper
et al, Angew. Chem. Int. Ed
., 2010, DOI:10.1002/anie.201002483
Also of interest

29 October 2009
Zinc and alkali metals team up to metallate THF without breaking open the ring

29 April 2009
The first unsupported uranium-rhenium bonds have been created by UK scientists

23 December 2008
First ever uranium-gallium bond may shed light on the chemistry of nuclear waste separation

Chemistry World's whirlwind tour of the periodic table: a leading scientist or author tells the story behind each element
Related Links
Comment on this story at the Chemistry World blog
Read other posts and join in the discussion
External links will open in a new browser window