China slows R&D funding growth
10 March 2010
Hepeng Jia/Beijing, China
After robust growth in science and technology (S&T) spending in 2009, China has revealed a milder increase in the proposed 2010 science budget.
After a hefty 30 per cent increase in S&T funding from 2008 to 2009, the 2010 budget, announced at the recent meeting of the National People's Congress, China's legislature, revealed a more restrained 8 per cent increase on last year, with the central government planning an S&T spend of Yuan163 billion (US$23.9 billion)
'The tremendous growth in S&T spending last year was mainly a result of efforts to fight the financial crisis,' says Duan Yibing, a senior policy researcher at the Chinese Academy of Sciences' Institute of Policy and Management, adding that S&T spending could have a direct relationship to China's economic growth.
The significant increase in S&T expenditure last year was simply too big to be repeated in subsequent years, Duan says.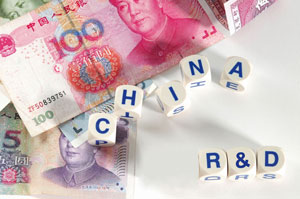 Chinese spending on science and technology increased more slowly in 2010
The flatter growth of S&T budget echoes the slower increase of overall fiscal spending in the Chinese budget.
In 2009, the central government's total spending was Yuan4.4 trillion, increasing 24 per cent year -on-year, but in 2010 the budget grew only 6.3 per cent over 2009 to reach Yuan4.7 trillion. Central government income is destined to rise 6 per cent to Yuan3.8 trillion, leading to a national a deficit of 2.8 per cent of GDP, similar to last year's figure.
Projects focusing on technologies that will help deal with climate change are likely to be a particular focus of the new S&T budget.
In his report to the National People's Congress on 5 March, Premier Wen Jiabao called for dramatic development of low carbon technologies, increased energy efficiency and the promotion of new and sustainable energy to cope with climate change.
Basic research into climate change will also be strengthened, as well as work in biotechnology, nanoscience, quantum communications and space science and technology.
Wen said that further effort should also go in to bringing S&T and economic development closer together, and that industry should become the major driver of technological innovation. He also stressed the need to attract more senior overseas S&T talent to China.
Interesting? Spread the word using the 'tools' menu on the left.
Also of interest

09 March 2010
Researchers and former science ministers warn UK government of 'decades of slow economic decline' unless science receives heavy investment

02 February 2010
Despite President Obama's plan to freeze domestic spending, science agencies would get a boost under new budget proposals
Science and technology organisations have been ranked as key targets for inspection by the finance ministry

16 October 2008
Worries over diminishing exports could fuel government spending on research
Related Links
Comment on this story at the Chemistry World blog
Read other posts and join in the discussion
External links will open in a new browser window