Pfizer to close historic UK site
02 February 2011
Most of the 2400 people employed at the Pfizer site in Sandwich, UK, will be made redundant over the next 18-24 months as the US pharma giant restructures its research operations. Pfizer is also closing a site in Cambridge, Massachusetts, US, with the loss of 100 jobs. This US step will be balanced by 450 employees that Pfizer is moving to Cambridge from Groton, Connecticut, where it is reducing its 4500 workforce by around a quarter.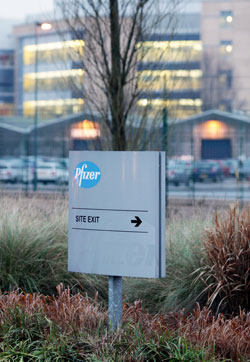 Viagra (Sildenafil), arguably the most iconic Pfizer drug, was developed at the Sandwich site
© Press Association
The plans were announced as the drugmaker reported $8.3 billion (£5.1 billion) profit on sales of $68 billion for 2010, down from $8.6 billion profit on sales of $50 billion the previous year. Pfizer's profitability fell despite the company boosting sales by acquiring Wyeth in 2009. The fall was partly a result of losing patent exclusivity on some key blockbuster products.
Lipitor (atorvastatin), Pfizer's statin drug for lowering cholesterol, lost exclusivity in Canada and Spain in 2010. Aricept (donepezil) for the treatment of Alzheimer's disease lost US exclusivity in November 2010. In addition, Pfizer will lose Lipitor's US exclusivity in 2011, and as a result the company expects annual revenues to stay approximately level. To bolster profits the company is now focusing on fewer therapeutic areas, dropping some of those based in Sandwich.
'We are evolving our culture, including research, to be a results-driven and entrepreneurial organisation,' Pfizer chief executive Ian Read told investors during a conference call on 1 February. 'This includes a proposal to exit the Sandwich, UK site. This is not a reflection on the UK operating environment or the quality of science in the UK, rather it's a business decision to focus our R&D footprint in must-win areas.'
'It is extremely disappointing that Pfizer has decided to end its research and development activity at its site in Sandwich,' said Vince Cable, the UK's business secretary. He added that the government would meet Pfizer, other companies and local representatives 'as a matter of urgency' in an attempt to preserve research at Sandwich. Pfizer says it hopes to transfer hundreds of 'research and development support' jobs to partners and there will be some relocation of staff.
'It's very sad,' commented Nick Terrett, who worked at Sandwich for 20 years up to 2003 and set up Pfizer's combinatorial chemistry group before moving into the US biotech sector. 'Sandwich has been established for more than 50 years, and it's been one of the great drug discovery centres in the history of the pharmaceutical industry.'
RSC chief executive Richard Pike described it as 'the haemorrhaging of the lifeblood of the British pharmaceuticals industry'. He added: 'The government must act now to keep these highly-skilled scientific jobs.'
Andy Extance
Interesting? Spread the word using the 'tools' menu on the left.
Also of interest

18 February 2010
Following its merger with Schering-Plough, Merck & Co. has announced a 'merger restructuring plan' that will see 17,500 jobs cut

28 January 2010
Research and development takes a hit as AstraZeneca announces plans to slash another 8,000 jobs worldwide

27 January 2009
Pfizer snaps up rival pharma firm Wyeth for $68 billion
02 February 2007
Job cuts herald turbulent times for pharmaceutical industry.
Related Links
Comment on this story at the Chemistry World blog
Chemistry World wants to hear what you think about the Pfizer closure. Will you be affected? Is the closure justified? Should the UK government be doing more? Click on the link and tell us your thoughts
External links will open in a new browser window