International Year of Chemistry launches across the world
16 February 2011
Over 1000 people from more than 60 countries helped to launch the International Year of Chemistry (IYC2011) at the United Nations Educational, Scientific and Cultural Organization (Unesco) headquarters in Paris, France, on 27-28 January.
The year-long celebration of all things chemistry has been assigned to 2011 by Unesco because this year marks the centenaries of both Marie Curie's Nobel prize in chemistry and the founding of the International Association of Chemical Societies, the forerunner of the International Union of Pure and Applied Chemistry (Iupac). The goals are to increase the public appreciation of chemistry in meeting world needs, to encourage interest in chemistry among young people and to generate enthusiasm for the creative future of chemistry under the unifying theme of 'Chemistry - our life, our future'.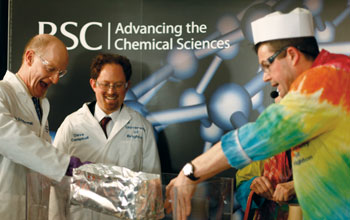 Bang on message: UK science minister David Willets took an active role in the chemistry on show
© RSC
The two day launch event started with the inauguration address from several dignitaries, including the Unesco director general and the president of Iupac, before moving on to a programme of keynote speeches from chemistry luminaries.
At a press conference for the event, Unesco and Iupac representatives described how change might be effected. Gretchen Kalonji, Unesco assistant director general for natural sciences said that female and male chemists pursue careers in research for different reasons. According to Kalonji, focussing research on sustainability (one of the IYC2011 topics) will help because 'targeting science towards practical outcomes increases the number of women in science'. Nicole Moreau, president of Iupac, added that she hopes IYC2011 activities will help to demystify chemistry, not just for the general public but also for the political establishment. 'If politicians are not afraid of chemistry, they will become more involved and engaged' she told Chemistry World.
Political will
IYC2011 has already created excitement in other countries. The RSC held a launch at the UK Houses of Parliament two days before the Paris event, where science minister David Willetts showed that he was not afraid of the chemical sciences by taking part in a public demonstration. 'Science is not just a theoretical subject but also a practical subject,' said Willetts. It is important that we celebrate 'practical mastery of procedures in the lab and a willingness to experiment' as well as 'extraordinary theoretical advancements' he added.
In Brussels, an IYC2011 launch event was attended by the Belgian prime minister, while, in Berlin, German chancellor Angela Merkel gave out awards to school pupils and interviewed them about their work for competition called 'Formula One', involving building chemical batteries to power toy cars'.
And, on 1 February, at the Chemical Heritage Foundation in Philadelphia, US, the US launch event featured a panel discussion on chemistry-based solutions to global challenges. Daniel Nocera, professor of chemistry at Massachusetts Institute of Technology in Boston and chair of the discussion, described humanity as 'living healthily on a dying planet' and asked what chemistry could do to correct this. Echoing the messages from the Paris event, the discussion highlighted as a priority the need for chemistry to be used to harness solar energy. Meanwhile, Rita Colwell, former director of the US National Science Foundation, urged chemists to focus on simple solutions that can be used in the developing world.
Education
Paris was used to promote the Global Experiment, described as the 'biggest chemistry experiment ever'. Called 'Water: A Chemical Solution', the project invites school pupils from around the world to investigate the water quality in their area and how water can be purified so that clean drinking water can be supplied.
In addition, pupils might be inspired by a video launched at the event. 'Chemistry, it's all about you' was sponsored by the European Petrochemical Association and is intended to show 'the importance of chemistry in our daily lives' to students aged between 16 and 20. There was a positive reaction to the video in Paris. But some doubt whether it will engage audiences. 'What it lacks is a compelling story' says Jonathan Sanderson, who runs StoryCog, a communications consultancy that has made films for the Royal Institution and National Stem Centres. 'The key message the film delivers is, to paraphrase, "chemistry affects everyone". But I'm not "everyone", I'm me.'
Laura Howes
Interesting? Spread the word using the 'tools' menu on the left.
Also of interest

Chemistry World will be publishing a series of articles, features, news features and sections of the magazine that celebrate chemistry and its contribution in society
International Year of Chemistry

Watch the exciting experiments conducted at the House of Commons and find out more about the IYC goals and major events.
Related Links
Comment on this story at the Chemistry World blog
Read other posts and join in the discussion
External links will open in a new browser window