AstraZeneca to cut 7300 more jobs
02 February 2012
UK drugmaker AstraZeneca has announced plans to cut a further 7300 jobs to make annual savings of $1.6 billion (£1 billion) by the end of 2014, a move that will cost the company $2.1 billion in the near term.
The company has not yet outlined the plans in full, but it has said that 2200 of the job cuts will land in R&D. In particular, it is planning to outsource its activities in neuroscience where it says that 'advances in treatments have proved elusive for the pharmaceutical industry in recent years, despite significant investment'.
As a result, it will close its R&D site in Montreal, Canada, which employs about 130 people, and cease R&D activity at its 7000 employee site in Södertälje, Sweden, which hosts 1400 researchers.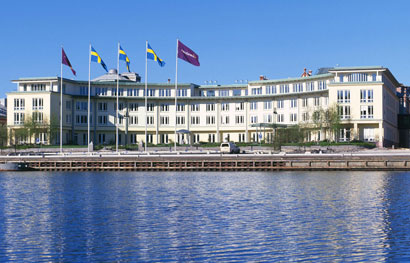 The AstraZeneca site at Södertälje in Sweden
© AstraZeneca
Meanwhile, it will create a 'virtual' neuroscience unit comprising 40-50 AstraZeneca scientists based in Boston, US, and Cambridge, UK, who will coordinate external research at academic and industrial partners.
Half of the 7300 jobs cuts will hit 'selling, general and administrative', while 1350 will hit operations.
'We are acutely aware that these decisions will affect many employees, and we will strive to support our people as we implement these changes,' said AstraZeneca chief executive David Brennan.
Like almost all the big pharma companies, AstraZeneca has announced plans to cut thousands of jobs in recent years as it prepares for the loss of sales associated with expiration of patents for key drugs. AstraZeneca announced its financial figures for 2011 alongside the restructuring plans. Globally, sales fell 2% (at constant exchange rates) compared with the previous year including $2 billion lost through generic erosion and $1 billion lost through government pricing changes. This contributed to a 4% drop in operating profit (at constant exchange rates).
But the really big hits are still to come. Anti-psychotic Seroquel (quetiapine) approved for treating schizophrenia and bipolar disorder generated $5.8 billion in sales in 2011. But the most important patents for Seroquel either expired in 2011 or are set to expire in 2012 and in some regions generic versions are already available.
The announcement has caused consternation in the UK pharma R&D community, where AstraZeneca is one of only two big pharma companies maintaining a significant R&D presence - the other being GlaxoSmithKline. The site at Alderley Park is the largest of the AstraZeneca R&D sites, employing 4000 researchers. In February 2011, Pfizer announced the closure of its R&D site at Sandwich, UK, with the loss of 2400 jobs.
'We do not yet know exactly where the jobs will be lost,' said RSC president David Phillips. 'But I express my sympathy to those people, wherever they are. Sadly, in the last two years, nothing has been done to keep highly-skilled, high-tech jobs in the UK. The pharmaceutical industry used to be the jewel in the crown of the British economy - not any more.'
Andrew Turley
Interesting? Spread the word using the 'tools' menu on the left.
Also of interest

28 January 2010
Research and development takes a hit as AstraZeneca announces plans to slash another 8,000 jobs worldwide

Anglo-Swedish dug firm AstraZeneca has revealed a dramatic increase in its planned job cuts
02 February 2007
Job cuts herald turbulent times for pharmaceutical industry.
Related Links
Comment on this story at the Chemistry World blog
Read other posts and join in the discussion
External links will open in a new browser window