Listen to your favourite magazine every month, with Chemistry World's very own podcast, including news, interviews and discussions on the latest topics in science
Downloadable Files
Chemistry World May 2012

MP3 (17435k)
Chemistry World Podcast
May 2012
1.08: A temporary tattoo measures athletic performance...
3.46: ...and a graphene tooth tattoo detects bacteria
6.42: Graham Turnbull is sensing explosives with his electronic nose
13.49: Solving the source of static
17.32: What does it mean if your bacon is green?
20.20: Bringing chemistry to life with Lee Cronin
28.19: Nanoparticles: a concern for children
31.37: The world's first germanone
34.09: Trivia - 50 years since the invention of which ubiquitous device?
Read more about this month's stories

27 March 2012
Nascar racer Paulie Harraka's hydration has been monitored using an epidermal electronic device

28 March 2012
A remote sensor operating on tooth enamel is a promising blueprint for non-invasive diagnostic devices

Can science compete with the sensitivity of a sniffer dog's nose? Emma Davies finds out
27 March 2012
Transfer of nanoscale fragments found to be far more important than previously thought for producing static charges

02 April 2012
Scientists have used x-ray diffraction to determine the structure of the nitrite burn on bacon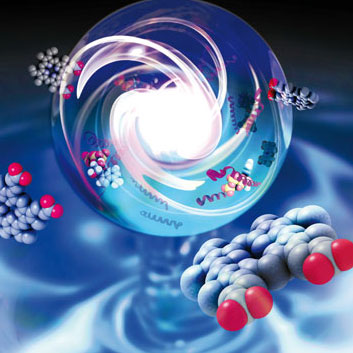 Biology has been pretty successful at creating life, but now chemistry wants a crack at it. Hayley Birch investigates

13 March 2012
Infant lungs are particularly prone to nanoparticle deposition, be it from pollution or inhaled medicines

25 March 2012
World's first germanone created using bulky ligands to stabilise highly reactive bond
Subscribe to the Podcast
To subscribe to the chemistry world podcast, add a subscription and then copy the following link into your application.
http://www.rsc.org/chemistryworld/podcast/cw_podcast.xml
If you have iTunes installed you can subscribe to the Chemistry World Podcast directly.
iTunes User Subscription
Alternatively you can download the podcast as an mp3 file
Related Links
Apple Website
Download Apple's iTunes software to listen and subscribe to Podcasts
External links will open in a new browser window
Download mp3 files of previous podcast issues
Transcripts are available of the Chemistry World monthly podcast
Find out a little bit more about the podcasters who help to make the Chemistry World podcast.
Frequently Asked Questions (FAQ)

New to this whole podcast business? Check out our Frequently Asked Questions.