Events and Competitions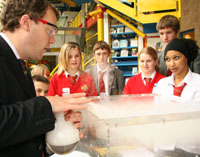 The RSC organises a range of exciting activities for school students. Find out how to:
Join in our competitions.
See the chemistry in our everyday lives at a Chemistry at Work event.

Take part and explore the fun side of chemistry!

16 - 23 November 2013, this year's theme is Health
Competitions

A science communication award from the RSC - aimed at primary and secondary school pupils.
---
National competition for 14-16 year old students
---
National competition run by the RSC's Analytical Division for first year sixth form students or equivalent.
Competition for upper sixth form students
---
The Online Chemistry Olympiad has changed.
---
Test your food for vitamin C. Upload your data and analyse the results
Events
See for yourself how chemistry is used in industry, research and everyday life
---
Giving students hands-on experience of cutting-edge spectroscopic techniques

Get involved by attending a ChemNet event. Look at chemistry in the real world by visiting a local company or university. Events are free for ChemNet members
---
Details of all forthcoming events suitable for schools