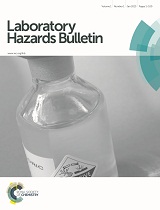 The latest laboratory health and safety issues
Laboratory Hazards Bulletin
Online only from 2013
If you need quick and comprehensive answers to questions like:
What measures need to be taken to dispose of laboratory waste safely?
How can acids be handled safely in a laboratory?
How gloves can be used as a precaution against contact dermatitis and other allergies?
...then Laboratory Hazards Bulletin is for you. This online database provides key information on hazards encountered by laboratory workers in all fields including R&D, analytical and hospital laboratories, scanned from the primary scientific and trade literature worldwide.
Coverage includes:
chemical and biological hazards
leaks, spills and unplanned releases
hazardous waste management
fires and explosions
safety legislation
precautions and safe practices
occupational health and hygiene monitoring
protective equipment
Laboratory Hazards Bulletin is also available as part of Chemical Safety NewsBase (CSNB)
Chemical Safety NewsBase (CSNB)

The complete solution to your health & safety information needs
Downloadable Files
Laboratory Hazards Bulletin


PDF (68k)
PDF files require
Adobe Acrobat Reader