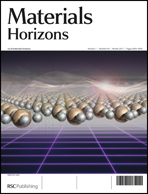 The new home for rapid reports of exceptional significance on innovative materials
About Materials Horizons
Materials Horizons is a premier journal publishing first reports of exceptional significance across the breadth of materials research. It is an innovative, community-focused, dynamic journal guided by world-renowned Editorial Board members.
The journal features research at the cutting-edge interface of materials science with chemistry, physics, biology and engineering.
Why publish with Materials Horizons?
Materials Horizons publishes leading articles in materials science. Scientific Editors, all active researchers in the field, help ensure articles meet the stringent criteria required for publication in the journal.
All articles published in Materials Horizons benefit from wide exposure, with free access upon registration to all content published during 2014 and 2015 giving maximum visibility to your work.
Materials Horizons authors benefit from:
Rapid publication times
Simple and user-friendly online submission process
Free use of colour
No page charges
No page limits
Open access publishing options
Free electronic reprints (pdf) of own paper
Indexed in Web of Science
Readership
Materials Horizons is a core journal for academic, government and industrial scientists involved in all aspects of materials research.
Materials Horizons Editorial Board

Details and further information about the Materials Horizons Editorial Board and Advisory Boards
Materials Horizons article guidelines

Materials Horizons publishes Communications, Reviews, Mini-reviews and Focus articles.
Register for email alerting services about our activities and publications (including Journal Table of Contents alerts, eBook Collection alerts and newsletters).
Registration for free online access

Fill in our simple online registration form
Information on Open Access and RSC Policy