About Chemical Science
Chemical Science is dedicated to publishing findings of exceptional significance from across the chemical sciences.
Chemical Science moved to Gold Open Access in January 2015, becoming the world's first high-quality Gold Open Access chemistry journal.
Dynamic: Editor-in-Chief Professor Daniel Nocera of Harvard University leads a dynamic international team of Associate Editors who drive the scientific development and make decisions on the content
Unique: A dedicated home for findings of exceptional significance from across ALL the chemical sciences. In a break with tradition, the journal gives authors the freedom and flexibility to publish more extensive accounts of their novel research without page restrictions
A leader: At the forefront of the most exciting developments in the chemical sciences, helping to define the important areas by publishing the most significant cutting-edge research
High impact: Building on the successes of related RSC flagship journals Chemical Communications and Chemical Society Reviews, both of which enjoy an international reputation for high quality content and speed of publication
The Best New Journal 2011: as awarded by the Association of Learned and Professional Society Publishers
The current impact factor for Chemical Science is 8.601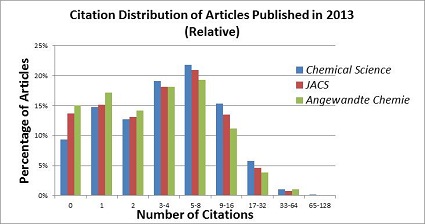 The above graph shows the number of citations to articles published in 2013 in Chemical Science and other leading general chemistry journals. Publishing your research in Chemical Science means your article will have excellent visibility and will be read and cited quickly by your colleagues. [Data downloaded from ISI Web of Science on 13 June 2014]
Article types
Chemical Science publishes all original research in one format: Edge Articles.

Chemical Science editors understand that traditional two- or three-page limits for the dissemination of new research are not suitable across all sub-fields of chemistry. Edge Articles have absolutely no page limits, although we anticipate that most will fall between four and ten pages. Edge Articles enable novel research findings to be presented in a succinct and exciting way, without the need for abridged discussions or perspectives. Lengthy introductions and discussion, extensive data, and excessive experimental details and non-experiment-based conjecture should not be included. All articles are published with unlimited free colour.

Mini Reviews and Perspectives are also published, normally by invitation of the Chemical Science Editorial Board.

Scope
Chemical Science publishes original research articles of exceptional significance from across the chemical sciences. The journal will help to define the important areas by publishing the most significant cutting-edge research. Submissions must appeal to the general chemical science community, or be of exceptional interest to specialist researchers. Main research areas include (but are not limited to):
Organic chemistry
Inorganic chemistry
Physical chemistry
Materials science
Nanoscience
Catalysis
Chemical biology
Analytical chemistry
Supramolecular chemistry
Computational and theoretical chemistry
Energy and environmental chemistry
Green chemistry
Theoretical chemistry
Computational chemistry
Readership
Chemical Science is essential reading for academic and industrial chemists in all areas of the chemical sciences.
Chemical Science journal guidelines

Further information on journal policy and the types of article published in Chemical Science
Register for email alerting services about our activities and publications (including Journal Table of Contents alerts, eBook Collection alerts and newsletters).