Wales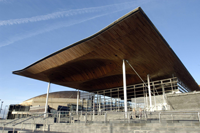 The Royal Society of Chemistry continues to pioneer scientific links with devolved bodies, developing relations between the scientific community in Wales, the Welsh Government and Assembly Members.
These relationships have been enhanced by the continuing development of the Assembly Links Scheme which pairs Assembly members with RSC members across Wales and the establishment of the annual Science and the Assembly event.
The RSC also coordinates the important work of the National Assembly's Cross-Party Group on Science and Technology.
Leigh Jeffes our Parliamentary Affairs Adviser for Wales is on hand to help ensure the work of AMs can be supported through access to key members of the scientific community.
keeping you up to date with information in and around Wales
Related Links
Cross Party Group on Science and Technology
Bringing together Assembly Members and others with an interest in science, technology, engineering and mathematics in Wales
External links will open in a new browser window
Contact and Further Information
Leigh Jeffes
Parliamentary Affairs Adviser - Wales

---