RSC Online Bookshop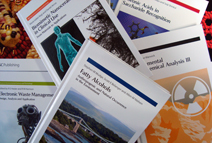 Welcome to the RSC Online Bookshop. Our expanding online list contains more than 1200 high-quality chemical science books , from Physical to Organic, Environmental to Biomolecular.

Copyright: 2013
The Merck Index is the definitive reference work for scientists and professionals looking for authoritative information on chemicals, drugs and biologicals.

Finding reliable textbooks can be challenging. Let us help. We can provide you with the best and most comprehensive textbooks and course materials from across the chemical sciences...
The NEW 2013 RSC Books Catalogue, the NEW RSC Textbook and Course Material, and Nano and Materials Science subject specialist mini catalogues.
Now Published!
---
---
---
Forthcoming Books
---
---

Become a fan on Facebook, follow us on Twitter or sign up for e-alerts and RSS feeds - it's easy to keep up-to-date with all the latest news from RSC Books.