RSC Online Bookshop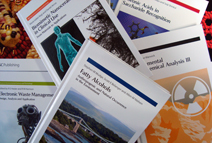 Welcome to the RSC Online Bookshop. Our expanding online list contains more than 1200 high-quality chemical science books , from Physical to Organic, Environmental to Biomolecular.
New Online Bookshop Coming Soon - Watch this space
We're adding the final touches to our new Bookshop. Our members can claim their 40% special discount for May by entering their membership number at the checkout.
Book Sales and Customer Care
RSC Books, Royal Society of Chemistry, Thomas Graham House, Milton Road Science Park, Cambridge CB4 0WF

---

Finding reliable textbooks can be challenging. Let us help. We can provide you with the best and most comprehensive textbooks and course materials from across the chemical sciences...

A collection of chemistry and art related books published by the Royal Society of Chemistry.

Handpicked title collections from key disciplines

Copyright: 2013
The Merck Index is the definitive reference work for scientists and professionals looking for authoritative information on chemicals, drugs and biologicals.

Become a fan on Facebook, follow us on Twitter or sign up for e-alerts and RSS feeds - it's easy to keep up-to-date with all the latest news from RSC Books.
Now Published!
---
---
Forthcoming Books
---
---