Additions and corrections
---
Density-functional theory models of xanthine oxidoreductase activity: comparison of substrate tautomerization and protonation
Craig A. Bayse
Dalton Trans., 2009, 2306 (DOI: 10.1039/b821878a). Amendment published 26th March 2009.
---
The labelling of Glu802 and Glu1261 in Fig. 1 was incorrect.
The published version of Fig. 1 should be amended as shown below: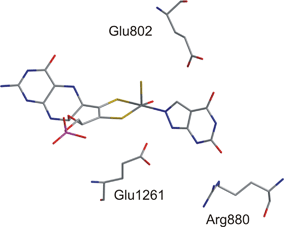 Fig. 1 Active site of XO showing the interactions of the inhibitor oxypurinol with critical residues.10
---
The Royal Society of Chemistry apologises for this error and any consequent inconvenience to authors and readers.
---