Cells have an appetite for micro-doughnuts
24 June 2008
Just like humans, liver cells can't resist eating just one or two small doughnuts, say chemists from Scotland in the Royal Society of Chemistry journal Chemical Communications.
Exploiting liver cells' appetite for polystyrene ring "doughnuts", just a few microns across, might give scientists a new way to deliver drugs selectively, potentially eliminating nasty side effects of life-saving treatments such as chemotherapy.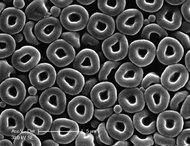 Mark Bradley and colleagues at the University of Edinburgh, UK, serendipitously made the polymer doughnuts while studying potential drug-carrying microparticles.
While synthesising micro-spheres, the team added a small amount of dioxane to their usual ethanol solvent. To their surprise, the resulting microparticles were regular in size and shape, with a hole through the middle like a doughnut.
"Their unique and highly uniform structure was immediately interesting to us and we considered the possible applications they may have - one of which was as carrier particles for cellular delivery," said Bradley.
When they tested the uptake of the doughnuts into different types of cells, the team found they had an overwhelming preference for liver cells.
The high cell specificity these doughnuts showed led the team to conduct extensive in vivo testing in rats. The doughnuts were injected into the tail and within four hours they were detected solely in the liver region with no adverse effects observed in the animal after the experiment.
Bradley believes there are other uses for the micro-doughnuts besides drug delivery, such as filtration or purification devices, but the team will be keen to develop their ability to selectively deliver drugs into cells.
References
Lois Alexander,
Chem. Commun.
, 2008,
DOI:
10.1039/b805323e
Contact and Further Information
Press Office
Royal Society of Chemistry, Burlington House, Piccadilly, London, W1J 0BA

---