Analytical Division Strategy - Analytical Workshops India
November 2014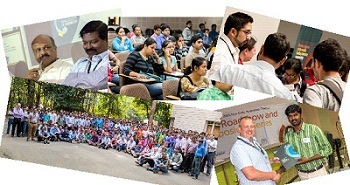 Members of the Analytical Division (AD) Council visited India in November 2014 as part of the Royal Society of Chemistry's India Roadshow to IIT Delhi, University of Hyderabad, and IIT Madras. In each location panellists from India, the USA and UK discussed issues relevant to the analytical chemistry community in India with an audience of local scientists.
Please review the outline of the discussions and send us any comments, feedback or anything you think we've missed by emailing Dr Michael Smith, stating your name and institution/company – we look forward to hearing from you.
The Royal Society of Chemistry gratefully acknowledges the involvement of members of the Indian Society for Analytical Scientists and the Chromatographic Society of India, the USA and UK participants as well as members of the host institutions (both staff and students alike) which all helped to make these workshops so successful.
Excellent discussions took place in each of the 3 locations with valuable questions and comments from the audience. Some topics covered included:
Analytical research funding
Raising the awareness of analytical science
Strengthening industry-academic collaboration
Access to instrumentation, training and career development
Outreach activities and teaching of analytical science
Some of the key points made in these discussions were:
Analytical Instrumentation
Modern analytical science increasingly involves the use of sophisticated instrumentation. It is vitally important that students have access to instrumentation, are trained in the operation of such instruments and understand the principles of the techniques concerned. It is possible to be strong on theory while lacking 'hands on' experience especially in rural universities in India – local availability of equipment can be an issue.
The chemical and pharmaceutical industries in India have some very well-equipped analytical laboratories. Developing ways of further sharing these resources with academia would be welcomed. Greater use of remote online access to instrumentation could also be explored along with the use of 'virtual experiments' for training purposes.
The levels of instrumentation required mean that analytical chemistry requires greater capital investment than certain other areas of chemistry
University Education and Training

Despite the expansion and development of analytical tools, some would argue that analytical pedagogy has shrunk
Development of good links with industry by academia is important. Industrial academic collaborations have mutual benefits. For example such collaborations can help companies to develop their products and also provide access to equipment for academic groups
It is important for students to understand the principles of chemical measurement. Furthermore there needs to be awareness of the distinction between analytical measurement and analytical research.
We also need to be aware that analytical chemistry is not always 'branded' as such, it is often carried out in a very interdisciplinary environment, and the 'boundaries' between the different parts of chemistry and indeed of science are disappearing
Students need to learn about the analysis of complex matrices, especially biochemical and clinical samples, the range of techniques that are applicable, and cutting-edge developments e.g. point of care testing.
Students need to engage with contemporary analytical challenges in order to help develop the analytical techniques of the future.
Insufficient analytical knowledge and expertise in chemistry graduates may also need to be addressed through the university curriculum. Many aspects of analytical chemistry have now been absorbed into physical and inorganic chemistry courses. Many analytical chemistry units in universities across India have been closed and analytical chemistry is sometimes no longer taught as a distinct course. The university curriculum could also help to foster academic-industry collaboration.
A large proportion of the population in India is under 30, the whole nation needs to develop skills – analytical skills are very much needed. A big leap is required to move from basic laboratory techniques to expertise in advanced analytical methodology. However the rapid pace of analytical technique development calls for sustained re-investment over time.
Concern was expressed that many Indian scientists leave to develop their scientific careers overseas with the resulting loss of their talent and creativity
Another problem is that some managers responsible for training of analytical staff lack up to date knowledge and experience in the subject.
Perception of analytical science
Another difficulty is that some students are not interested in this field of chemistry. We need to attract talent to this subject. This may well necessitate school outreach activities to promote interest in analytical science from an early age – some colleges and universities in India are doing this kind of thing. Some useful links can be found on the Learn Chemistry website. Additionally, the Royal Society of Chemistry runs the Hamied Inspirational Chemistry Programme which aims to enhance the skills and knowledge of Indian chemistry teachers and has been generously funded by Indian business leader, scientist and philanthropist, Dr Yusuf Hamied. A related example from the UK is the RSC's Spectroscopy in a Suitcase programme where post-graduate students from a university take a portable instrument to a local school and work through some experiments with the school pupils thereby providing 'hands on' experience otherwise unavailable. Another example from the UK is the Schools' Analyst Competition.
Student attitude and motivation are also factors – there are jobs in analytical chemistry and if students take the initiative and seek out opportunities to acquire the necessary knowledge and skills then it will be to their advantage.
It's important to develop ways of communicating the value of analytical science to Government and Funding agencies. In the UK the Royal Society of Chemistry has sought to communicate the value and importance of the chemical sciences to the UK Government in their Campaign for Science.
Analytical chemistry is key to much that we need in our society – it plays a vital role in food, health, energy and environmental aspects of life. So analytical chemists need to keep working to show the value and importance of their field – the development of case studies which relate the science to real life societal issues can play a role in this.
Learned and professional societies can play a role in helping to promote the value of particular fields of science, through scientific meetings and workshops, outreach activities and by presenting concerns of the communities they represent to government and funders. Such societies can also help foster industry-academia and interdisciplinary collaborations
Now tell us what you think. Please send us any comments, feedback or anything you think we've missed, giving your name and institution, by emailing Michael Smith below – we look forward to hearing from you.
Analytical Workshop - Panellists and Chairs
Indian Institute of Technology (IIT) Delhi – Tuesday 4 November 2014
Panel composition:
Professor Christy Haynes
Professor Siddharth Pandey
Professor Susheel Mittal
Professor Duncan Graham
Dr J Christopher
Workshop chairs: Dr A A Gupta (General Manager Fuels, Indian Oil R&D Centre) and Mr Alan Handley (LGC, UK)
University of Hyderabad – Friday 7 November 2014
Panel composition:
Professor Vicki Wysocki
Dr G Ramakrishnan
Dr J Christopher
Dr Karuna Sagar Dheram
Workshop chairs: Dr Srinivasan Duraiswamy (Director Analytical R&D, Dr Reddy's) and Mr Alan Handley (LGC, UK)
Indian Institute of Technology (IIT) Madras - Monday 10 November 2014
Panel Composition:
Professor Christy Haynes
Professor Sriman Narayanan
Professor P Selvam
Professor Annamalai Senthil Kumar
Workshop Chairs: Dr T Pradeep (IIT Madras) and Mr Alan Handley (LGC, UK)
RSC India Roadshow

4 November 2014, Indian Institute of Technology (IIT) Delhi; 7 November 2014, University of Hyderabad; 10 November 2014, Indian Institute of Technology (IIT) Madras, Chennai
Related Links

Indian Society of Analytical Scientists
Delhi Chapter
External links will open in a new browser window
Contact and Further Information
Michael Smith
Programme Manager, Analytical Sciences
Royal Society of Chemistry, Thomas Graham House Cambridge Science Park, Milton Road, Cambridge, CB4 0WF
Tel: 01223 432173

---