Postgraduate Symposia 2008
The 2nd RSC BMCS Postgraduate Symposium, held in association with the University of Cambridge on 11 December 2008, featured talks by 9 students and included 21 posters.
The prize for the best talk went to Lynette Smyth from the Institute of Cancer Research at Sutton for her talk titled 'Kinase-Directed Libraries Inspired by the Natural Product Indirubin' (supervisor Ian Collins). The best poster prize was awarded to Liuhong Chen from the Department of Chemistry, University of Cambridge for her poster titled 'Riboswitch ligands by fragment screening and rational design' (supervisor Chris Abell).
Lynette Smyth from the Institute of Cancer Research at Sutton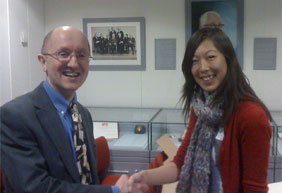 Liuhong Chen from the Department of Chemistry, University of Cambridge