Committee Members' Biographies
---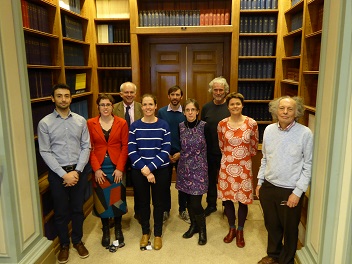 Environmental Chemistry Group Committee April 2018. Back row: Dr Glynn Skerratt, Dr Tom Sizmur and Prof Steve Leharne. Front row: Dr Valerio Ferraci, Dr Rowena Fletcher-Wood, Dr Laura Newsome, Dr Clare Topping, Dr Zoë Fleming and Dr Roger Reeve
---
Dr Tom Sizmur is a Lecturer in Environmental Chemistry at the University of Reading. His research interest spans soil biogeochemistry in contaminated and agricultural systems with an emphasis on the interactions between organisms and their environment. His current research is on the use of biochar in environmental remediation and on the improvement of soils by applying organic amendments. Prior to this appointment Tom worked as a postdoctoral researcher at Rothamsted Research (UK), Iowa State University (USA) and Acadia University (Canada) and gained his PhD from the University of Reading.
---
Dr Zoë Fleming is a research fellow based at the University of Leicester, working for the National Centre for Atmospheric Science (NCAS) on the analysis of long term atmospheric trace gas measurements. Zoë works closely with the Met Office using dispersion modelling to track the long range transport of pollutants across the globe and their effects on atmospheric composition and chemistry. She looks at trends in pollutants and trace gases from monitoring station data and field campaign measurements and is also interested in assessing the performance of small sensors for air quality measurements.
---
Dr Glynn Skerratt CChem CEnv CSci CWEM FCIWEM FHEA FRSC
Glynn is a retired Reader in Environmental Chemistry who worked in the Faulty of Sciences at Staffordshire University for 23 years. He has a PhD for his work elucidating aspects of organophosphorus chemistry kinetics and has taught many aspects of environmental chemistry, environmental management and sustainability. Whilst working in higher education, Glynn developed wide experience of distance and on-campus learning and teaching, in-company training, consultancy, applied research and marketing/project/people management and has delivered staff development workshops in e-learning, independent learning and enterprise/entrepreneurship for the Higher Education Academy.
Prior to working at Staffordshire University, Glynn spent fifteen years working in scientific and operational management in the UK water industry – managing laboratories and working in the industrial effluent regulation and wastewater treatment operations sectors.

He currently acts as an expert evaluator for EU Horizon 2020 project proposals and reviews both interim and final project reports for these. He has also been an evaluator for proposals for UK British Council Development Partnerships in HE, the British Council Prime Minister's Initiative and British Council England-Africa and UK-India Partnerships. Glynn is an active member of the Chartered Institution of Water and Environmental Management and acts as a professional reviewer for membership applicants and as a university award accreditor for them.
---
Valerio is a research fellow at the Centre for Atmospheric Informatics and Emissions Technology at Cranfield University. His research interests lie in atmospheric chemistry and trace gas measurements.
Valerio obtained his PhD from University College London on laboratory studies of the kinetics of ozone-depleting halogen oxide radical reactions. He then worked at the National Physical Laboratory on the detection of volatile organic compounds and reactive gaseous species using a variety of techniques. Following a post-doctoral position at the University of Cambridge in which he explored tropospheric oxidation pathways in global atmospheric models, he moved to his current position in Cranfield to work on the development of low-cost sensors for long-term monitoring of atmospherically important species.
---
Dr Rowena Fletcher-Wood AMRSC
Distinguished Guest Lecture Convener & Assistant Editor ECG Bulletin
Rowena Fletcher-Wood is a science communicator for Science Oxford and a science writer. She completed her doctoral research in environmental materials chemistry at the University of Birmingham on remediation of chromate species in waste water using redox-active molecular sieves and previously studied at Somerville College, Oxford. Her interests lie in science communication and outreach.
---
Professor Steve Leharne CChem FRSC
Professor Steve Leharne CChem FRSC is Professor (emeritus) of Environmental Chemistry at the University of Greenwich. His major scientific and research interests have been focussed, over the past twenty years, upon the transport and fate of denser than water non-aqueous phase liquids in soils and aquifer formations. Typical examples of these organic liquids, commonly referred to as DNAPLs, include chlorinated hydrocarbon solvents and coal tar. The second major research theme arising from this primary focus has been on the remedial challenges arising from the water quality degradation that arises from DNAPL presence in groundwater. In particular we have examined the use of surfactants and more recently colloidal particles to remove entrapped DNAPL droplets from water wetting porous media. Leharne is the co-author of two practitioner focussed Handbooks dealing with DNAPL and LNAPL fate in UK aquifers published respectively by the Environment Agency and CL:AIRE (Contaminated Land: Applications in Real Environments.
---
Laura is a research scientist based at the University of Manchester. Her research interests cover how the activity of microorganisms influences geological and geochemical processes and vice versa, particularly how microbes affect the fate and transport of contaminants and metals in the natural environment. Laura's current research project focuses on understanding the natural behaviour and biogeochemistry of cobalt, an 'e-tech' metal that is essential for a low carbon society. She is also working on projects looking at how bacteria may contribute to the release of toxic arsenic from sediments into drinking water supplies, and on whether we can use nanoparticles to clean up radioactive contamination. Laura gained her PhD at the University of Manchester and prior to this she worked at the Environment Agency and as an environmental consultant.
---
Dr David Owen is the retired Founder and Managing Director of Treatchem Ltd, an SME company specialising in custom designed process water and waste water management programmes . The company exists to help industrial water users comply with environmental regulations by the supply of consultancy, chemicals and temporary plant where required. David is a serial entrepreneur in the field of environmental speciality chemical applications.
He completed his PhD at Birmingham University on the preparative electrochemistry of fluoro-organic molecules and previously studied at Liverpool University. His interests lie in the new technologies emerging to remediate or cure the environmental problems currently of interest in the fields of water, soil and air pollution.
---
Dr Roger Reeve CChem MRSC
Assistant Editor ECG Bulletin
Dr Roger Reeve is a Senior Lecturer teaching Analytical, Inorganic and Environmental Chemistry in the Faculty of Applied Sciences at the University of Sunderland. Roger's current interest is in the analysis of pharmaceuticals in the environment. He has written two books on environmental analysis, the most recent, 'Introduction to Environmental Analysis', having recently been published in Chinese. Prior to his appointment at Sunderland, Roger worked in a process plant manufacturing company specialising in atmospheric pollution control equipment.
---
Dr Clare Topping CChem MRSC
Clare is the Energy and Sustainability Manager at Northampton General Hospital NHS Trust. Her interests include the health effects of pollution, plastics and the circular economy as well as the environmental impacts of healthcare.

Clare gained her PhD at Warwick University on the preparation of telechelic methacrylates using macromers as chain transfer agents. She then worked in the contact lens industry before moving to a position with an irradiation company.
---
Professor Dominik Weiss FRSC
Dominik is a Professor in Environmental Geochemistry and has extensive experience in conducting research in low temperature geochemistry. His work tries to explain what controls trace element cycling in the environment from molecular to global scales. A special focus is on understanding the chemistry at surfaces and in solutions as well as on global biogeochemical cycles. Key contributions to date have been pioneering the application of non-traditional stable isotopes in environmental science, improving our understanding of Zn efficiency mechanisms in rice, in developing a qualitative and quantitative understanding of human impact on atmospheric metal cycles and in establishing peat core archives as terrestrial archive to study changes in global dust cycles. His group uses a combination of field, laboratory and theoretical experiments to test underlying hypothesis or to improve the understanding of processes and mechanisms.
---