Distinguished Guest Lecturer Medal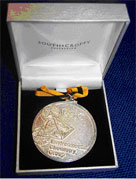 Distinguished Guest Lecturer Medal
At the 2006 Distinguished Guest Lecture, the inaugural award of the ECG's Distinguished Guest Lecturer Medal took place. The first recipient of this medal was Professor Mike Pilling from the University of Leeds, and the second medal was presented to Dr Eric Wolff from the British Antarctic Survey at the 2007 DGL.
The Distinguished Guest Lecturer Medal is cast from Cornish tin, smelted and refined using traditional methods to around 99.6% purity. The tin was won before the closure in 1998 of South Crofty Mine, West Cornwall (the last working tin mine in the UK), and produced by the South Crofty Collection.
The medal is designed by Patrick Lowry MA who lectures in the Cornwall College Fine Art Department. He chose the water molecule as a motif because of the ubiquity and uniqueness of water and its intimate relationship with environmental issues. A superimposed tetrahedron symbolises the carbon cycles through which life on earth flourishes and declines. The medal is decorated with a gold and black ribbon (the Cornish colours) and is presented in a mahogany box, designed by Phillip Whitfeld MA and made by students from Cornwall College's Furniture Design Foundation Degree Course.