Faraday Division Regalia
Faraday Loving Cup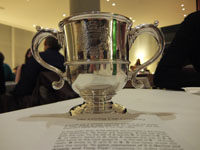 The Loving Cup, known as the Marlow Cup, was purchased out of funds raised by an appeal to members of the Faraday Society to commemorate Mr G W S Marlow, Secretary and editor of the Society from 1928 to 1947. The Cup, dating from 1728, is silver and is reputedly by the lady silversmith Heslie Fawdery. It bears a crest of which nothing is known and no inscription was added by the Faraday Society.
The Cup is used at Faraday Discussions on the occasion of the Conference Dinner to toast the memory of Mr Marlow, Angela and Tony Fish, and the Faraday Division. It is then passed around the assembled company in the traditional manner.
Faraday President's Badge of Office
The badge was designed by the eminent goldsmith Mr Leslie Durbin in 1956. It is in 9 ct gold and silvergilt, representing the head of Michael Faraday surrounded by a wreath of strawberry leaves and surmounted by a magnet and benzene ring. It is worn by the President of Faraday Division on formal occasions and particularly at Faraday Discussions.
Details of the RSC Prizes and Awards in physical chemistry