50th Anniversary
The Molten Salts Discussion Group (MSDG) is proud to have reached the milestone of 50 years of service to the community and there was a fitting meeting at Fitzwilliam College, Cambridge in July 2013.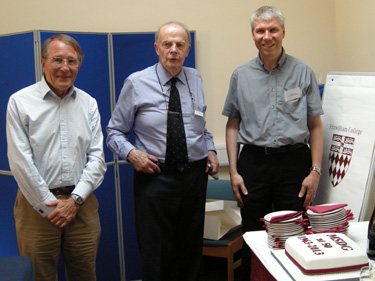 Derek Frey, Doug Inman and Andrew Abbott at the celebrations
The year of celebrations began when the Group hosted a postgraduate meeting on Ionic Liquids at the University of Leicester in January. This had 50 researchers in attendance. The standard of the presentations was excellent and Matthew Clough (Imperial College) won the award for the best presentation. The postgraduate event will be repeated in early 2014 at the University of Warwick.
The Group has a strong track record of promoting rigorous science in the field of molten salts and room-temperature ionic liquids (RTILs). Accordingly the Summer Meeting was themed around review and preview.
Academic talks were interspersed with presentations by senior members of the Group, highlighting advances in the field over the past 50 years, and offering insights into future directions of research within molten salts.
Topics ranged from a consideration of the polarity of RTILs to extraction metallurgy and the importance of behaviour change if the opportunities presented by energy saving technologies are to be fully realised.
The 50th anniversary celebrations will draw to a close at the Christmas Meeting in Burlington House (16 December 2013) followed by the traditional wine & cheese reception.
Written by Andrew Abbott, Matthew Clough & Stuart Mucklejohn
November 2013