Organic Division Council
Welcome to the Organic Division.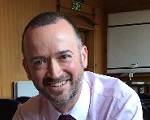 We have around 8,700 members who reflect the varied areas that organic chemistry is involved with including academics, teachers, students and chemists in industry working on health, food, energy, coatings etc etc. Some of the activities run by the Organic Division together with our many interest groups are shown on these web pages, including symposia, awards, international activities and long term strategy.
If you are not a member, then I take this opportunity to encourage you to join us.
If you have ideas for new activities that the Division might support, I would be delighted to hear from you.
Stuart Conway President, Organic Division
Biographies & contacts
Council Comittee list with retirement dates.
Meeting Dates
07 October 2019
12 February 2020
13 May 2020
14 October 2020
Downloadable Files
Organic Division Strategy 2017-2020
Organic Division strategy


PDF (42k)
Guidance for Organic Division Council Members


PDF (76k)
Rules for Organic Division


PDF (31k)
PDF files require

Adobe Acrobat Reader