Organic Division Regional Meetings
The Organic Division Council is committed to regional meetings as an important route to involve younger members at the local level. Covering the UK and Ireland, the meetings take place between December and May every year and are organised by a host institution within the region.
The speakers include RSC Prize and Award winners; and researchers from industry and academia. Importantly, the meetings give the opportunity for younger chemists to present their research.This important activity is an excellent way for researchers within a region to meet and network, and to hear progress in organic chemistry research.
The 2020 Organic Division Regional Meetings will take place at the following locations:

North West: 01 April 2020, University of Manchester
Midlands: 07 April 2020, Nottingham Trent University
North East: 07 April 2020, Northumbria University
Ireland: 24 April 2020, University College Cork
Click on the forthcoming events link for information about each meeting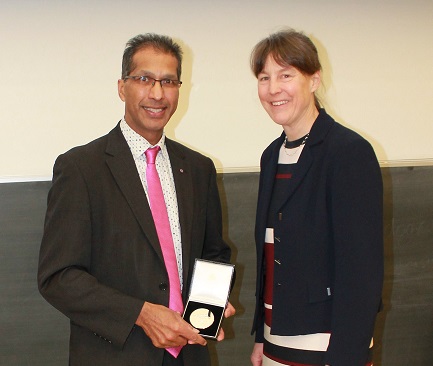 Scottish Regional Meeting 2018 held at The University of Edinburgh. Award winner Prof Varinder Aggarwal is presented with his medal by Prof Alison Hulme, OD President
Regional Meeting Reports
Downloadable Files
Report of the South and West Regional Meeting
Held on 13 February 2020, Kingston University


PDF (1019k)
Report of the South and West Regional Meeting
Held on 16 January 2020, University of Oxford


PDF (113k)
Report of North East Regional Meeting
Held at University of York on 27 March 2019


PDF (706k)
Report of Midlands Regional Meeting
Held at University of Warwick on 19 March 2019


PDF (290k)
PDF files require

Adobe Acrobat Reader
Duties and procedures for regional meetings