South Africa, North
The RSC South Africa, North section is based around Johannesburg with members from industry and academia. Recent events have included lectures, sponsorship of poster prizes at conferences and a variety of schools and outreach activities.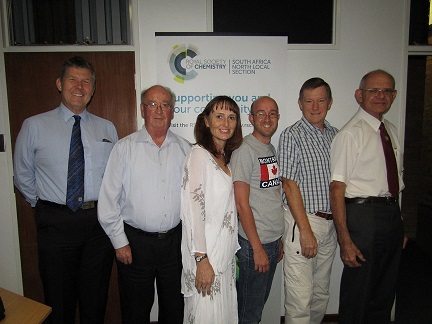 Ian Bratt (Chairman); Mike Laws; Suzanne Finney (Treasurer); Andreas Lemmerer (Secretary); Rob White; Gareth Tucker
South Africa North Section - IYC Challenge

Training of District Education officials in the new science curriculum
All events being held in Africa which are organised jointly by the RSC
Downloadable Files
Annual Report 2017
Further information on events run by the Local Section committee


PDF (86k)
PDF files require

Adobe Acrobat Reader
Related Links

Sci-Bono Centre
The largest science centre in Southern Africa.
External links will open in a new browser window
Contact and Further Information
Professor Lynne Pilcher MRSC
Secretary
University of Pretoria

---