Beijing Local Section - IYC Challenge
IYC Challenge Winner!
The Beijing Local Section IYC Challenge Project was deemed to be one of the best entries in the competition and was awarded £10,000 to continue their good work.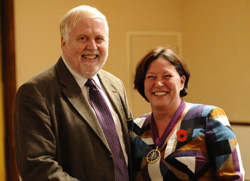 Background
Visitors to Beijing are likely to have been impressed by the forest of new, sometimes spectacular, buildings springing up all over the city. All the construction workers in Beijing, as well as those in the catering and other service industries, are migrant workers from the countryside who have left their subsistence farming existence in search of a better life.
China has a strict system under which workers are only entitled to benefits, including free compulsory education for their children, in their home village. This results in many children being left to be brought up by grandparents and rarely seeing their parents.
In Beijing there has been an effort to provide school places children who do join their parents. Most migrant workers live in cheap accomodation which is too far from the schools for primary aged children to travel to school alone.
Migrant students in state schools may also face prejudice from pupils, and even teachers. Therefore a number of migrant schools outside the state system have been set up on the outskirts of Beijing to provide an education for those migrant children who are unable to study in a state school. These schools generally suffer from a number of problems, including poor infrastructure and a rapid turnover of teachers.
Details of the programme
The RSC Beijing Local Section has used the IYC Challenge grant to set up a practical chemistry programme which can be taken into migrant schools and give students there a chance to study science.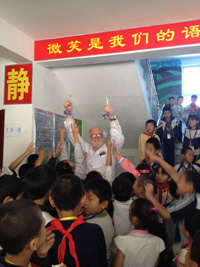 Suitable schools were identified through the Migrant School's Foundation (MCF). The programme is targeted at students in their final year of primary school.
Classes start with a few demonstrations to introduce the topic of the day and then students work in pairs to complete the set of experiments.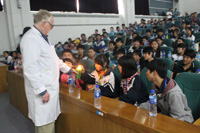 After each experiment, there is a class discussion of their results and some basic principles and ideas are highlighted.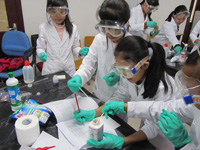 Key aims of the programme
To give migrant school children an opportunity to learn basic scientific principles by carrying out simple chemistry experiments.
To allow migrant school children to learn in a new and exciting way and thus inspire and encourage them to study harder in all their subjects.
To engender a sense of selfworth.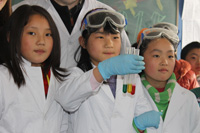 Additional benefits of the programme
Encouraging a culture of volunteering amongst chemistry students at different levels.
In order to launch the programme and generate publicity, a one day event for 250 children from migrant schools was held jointly with the UK Institute of Physics (IoP) and the MCF in Beijing University of Chemical Technology (BUCT) in April 2012.
In addition to funding by the IYC Challenge grant, the programme has already attracted several donations.
Future plans
According to the Chinese government '2012 Report on the Development of China's Floating Population', there are currently around 230 million migrant workers and their family members in Beijing and other cities all over China, accounting for some 17% of the total population of the country. Therefore there is a huge potential demand in migrant schools for activities such as that developed in this programme, and indeed this demand extends to rural schools.
After learning from the experience of delivering the programme, the Beijing Local Section would like in the future to be able to provide additional kits, together with manuals and other teaching materials, and train RSC members or Chinese teachers to deliver the programme in other schools.

Local Section activities recently held in Beijing
Downloadable Files
Beijing Local Section - IYC Challenge Report
Download the full report


PDF (167k)
PDF files require

Adobe Acrobat Reader
Related Links

Migrant Children's Foundation (MCF)
The MCF is a non-profit organisation that aims to enrich the lives of disadvantaged children in China through volunteering.
External links will open in a new browser window
Contact and Further Information
Dr Fiona McMillan
Member Networks Team Leader
Royal Society of Chemistry, Thomas Graham House, Science Park, Milton Road, Cambridge CB4 0WF
Tel: + 44 (0) 1223 432269

---