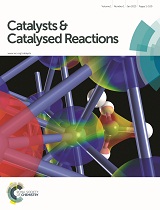 Graphical abstracts of new developments in catalysis research
Online only from 2013
Catalysts & Catalysed Reactions
includes around 200 new graphical abstracts each month, indexed by reaction under study and by catalytic method. This online database offers:
Graphical abstracts of new developments in catalysis
Selected from dozens of key primary journals
Coverage from all areas of catalysis research, including homogeneous, heterogeneous and biocatalysis with emphasis on current growth areas such as chiral catalysts, polymerisation catalysts, enzymatic catalysts and clean catalytic methods
Fast and effective access to the latest research in the field
Indexing by Authors, Products, Reactants and Catalysts, Catalyst Type and Reaction Type
Browse the Online Database
Print subscribers also have free access to Catalysts & Catalysed Reactions Online - the fully searchable web database which allows users to search across items published in Catalysts & Catalysed Reactions to date.
An E-mail alerting service is also available, allowing users to sign up for an e-mail message every time a new monthly bulletin is published online.
Register for email alerting services about our activities and publications (including Journal Table of Contents alerts, eBook Collection alerts and newsletters).
Related Link
Catalysis Science & Technology

A multidisciplinary journal focussing on all fundamental science and technological aspects of catalysis