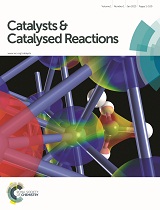 Graphical abstracts of new developments in catalysis research
Restricting Search Results
The search screen contains 3 drop-down lists from which selections may be made to restrict your search results, and one drop-down list to define the number of hits to be displayed on each page of your search results. To select from a list, simply click on the required entry.
Only one entry can be selected from each of the drop-down lists.
Publication year of original article
Your search will automatically retrieve any item matching your search criteria and include items originally published from 2001 to date, unless you select entries from the Publication Year (searchfrom or to) lists.
Web issue
The database is updated every month, at the same time that the monthly print bulletin is created. To create a list of all items in a particular monthly issue of Catalysts & Catalysed Reactions, or to limit a search to one particular issue, select an entry from the Issue drop down list.
To search only the latest update, click on the square check box labelled Limit to latest monthly update. When this facility is active, a tick appears in the check box. To deactivate, simply click again on the square check box.
Number of hits to be displayed
At the bottom of the search screen, the drop-down list entitled Number of hits to be displayed per page contains 4 entries (10, 20, 30 and All) which define the number of hits matching your search criteria that are to be displayed on each page of search results. A maximum of 300 records may be displayed on a page. The results of your search will automatically be displayed as 10 items per page unless you select an alternative entry from the list.
Introducing the search function on Catalysts & Catalysed Reactions Online
Searching throughout all fields in the database
Using the unique index entries to tailor your search
How to refine the criteria used to search the database
Using title, author and publication year details