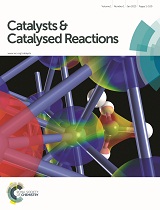 Graphical abstracts of new developments in catalysis research
Searching Bibliographic Data
The search screen provides 3 text entry boxes, two drop-down lists and a check box for searching the bibliographic data of the database records. The boxes enable searching of the following fields:
Article title
Publication year
Author names
Journal title
Article title
Text entered in the Article title text entry box will search only the titles of the records. All titles are in English, and have been translated from their original language where necessary. Chemicals in titles may appear as words or formulae (e.g. palladium or Pd). When searching for chemical names in article title more comprehensive results may be obtained by entering both the name and formula separated by the Boolean operator OR.
Further relevant information on searching Article titles is given in the help topic Searching Using Free Text.
Publication year
A search can be limited to a certain publication year or a range of publication years of the original article by using the drop-down lists available. By checking the 'search all years' box, all items will be searched. If no search criteria appear in these fields the default is 'search all years'.
Author names
Author names can either be searched by entering the surname only, or by entering the initials first followed by the surname for a more specific search. The initials of their first name must be separated by a full stop followed by a space.
For example: J. Stark
R. J. C. Brown
J. C.-S. Wan
Journal title
Journal titles must be searched by entering their standard abbreviated forms and not the full journal title.
A list of full journal titles and their abbreviated titles is given in the Source List. An Abbreviated journal title may be copied from the Journal Source List using the copy and paste facilities of your web browser. If entering an abbreviated journal title using free text, care should be taken to include the punctuation (stops and commas) exactly as in the standard abbreviated title.
For example, entering Dalton Trans. in the Journal title text box will retrieve records from Dalton Transactions
Common Journal Abbreviations

A list of the most commonly cited journal names, in their CASSI abbreviated form
---
Introducing the search function on Catalysts & Catalysed Reactions Online
Searching throughout all fields in the database
Using the unique index entries to tailor your search
How to refine the criteria used to search the database
Using title, author and publication year details