Applied Inorganic Chemistry Award 2013 Winner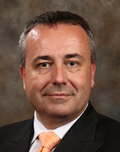 Professor Andrew Barron
Rice University

For his development of fundamental academic studies in the general area of nanotechnology towards a number of industrial applications, including those in the areas of oil and gas production, water purification, and the solar industry.
About the Winner
After having gained his BSc and PhD degrees from Imperial College (London) and performing post-doctoral research at the University of Texas at Austin, Barron spent eight years as a Professor of Chemistry at Harvard University before moving to Rice University in 1995 where he is the Charles W. Duncan, Jr. - Welch Chair of Chemistry and Professor of Materials Science. He is also an Honarary Chair of Nanotechnology in the College of Engineering at Swansea University in the UK.
He is the author of over 380 publications, 20 Patents, 5 books, and has graduated 30 PhD students. His early research focused on the chemistry of aluminum and related elements and spanned catalysis, electronic materials and nanotechnology. His current research involves the application of nanotechnology to fundamental problems in energy and health research. His research group has projects involving water purification, down-hole sensors, carbon dioxide mitigation, and cancer treatment.
Prof. Barron is a Fellow of the Royal Society of Chemistry, and the recipient of several awards, including: Hümboldt Senior Scientist Research Award, the Corday Morgan Medal, the Meldola Medal, and the first Welch Foundation Norman Hackerman Award. In 2009 Barron was appointed as the Prince of Wales Visiting Innovator. In 2011 he won both the Houston Technology Center's Lifetime Achievement Award in Nanotechnology and the World Technology Award (in Materials).
In addition to teaching in chemistry and materials science, Prof. Barron created the first educational programs at Rice University to span the schools of Science, Engineering and Management. For relaxation Barron races cars, as both an amateur and professional, on both sides of the Atlantic.