Applied Inorganic Chemistry Award 2017 Winner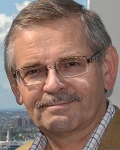 Professor Manfred Bochmann
University of East Anglia
Awarded for his insightful contributions to industry-relevant catalysis research leading to significant economic and environmental impact in industrial olefin polymerisation processes
About the Winner
Manfred Bochmann gained his Diploma Degree at Marburg University, Germany, and his Ph.D. at Imperial College London, with Professor Sir Geoffrey Wilkinson. After a spell in industry he moved to the University of East Anglia where he was promoted to a Personal Chair in Chemistry in 1994. From 1995 -2000 he was Head of the Inorganic and Structural at the University of Leeds.
In 2000 he returned to UEA, where he was Head of the School of Chemical Sciences and Pharmacy (2006-09) and Head of a newly configured School of Chemistry (2009-11). He was vice-president of the RSC Dalton Division Council, editorial board member of Dalton Transactions, Journal of Organometallic Chemistry and Organometallics, and volume editor of the major reference work "Comprehensive Organometallic Chemistry". From 2006-15 he served as Associate Editor of the ACS journal Organometallics.
He is the author of several textbooks in organometallic and inorganic chemistry and has published over 290 papers and 45 patents. Since the 1980s his research has been concerned with metallocene-based olefin polymerisation catalysis, which has since risen to a major branch of the polyolefins industry. His pioneering identification and synthesis of the catalytically active species and fundamental mechanistic studies resulted in major improvements in some industrial polymerisation processes. More recently attention focused on gold chemistry, including novel concepts for highly efficient light-emitting diodes.
Awards include the Royal Society of Chemistry Medal for Organometallic Chemistry, a Leverhulme Trust Research Fellowship (2010-11) and an ERC Advanced Fellowship (2014-19).
Related Links

Professor Bochmann's Webpage
University of East Anglia
External links will open in a new browser window