Bioinorganic Chemistry Award 2013 Winner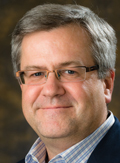 Professor Tom O'Halloran
Northwestern University


For his studies that determined the role of intracellular fluctuation of transition metal availability in the regulation of cellular physiology, and the discovery of proteins involved in this process.
About the Winner
Dr. Thomas V. O'Halloran is widely known for an interdisciplinary research program, involving chemical synthesis, analytical chemistry, biochemistry, molecular biology and cell biology. In his role of the Director of the Chemistry of Life Processes Institute, Professor O'Halloran administers and leads teams of interdisciplinary biomedical researchers. This Institute brings together researchers from the fields of chemistry, biology, physics, engineering, medicine, proteomics, nanobiotechnology, molecular therapeutics and biological molecular imaging. He also serves as the Associate Director for the Basic Sciences Research Division of the Robert H. Lurie Comprehensive Cancer Center of Northwestern University.
Professor O'Halloran received his PhD in 1985 from Columbia University in Bioinorganic Chemistry.
He is the Morrison Professor in the Department of Chemistry and in the Department of Molecular Biosciences at Northwestern.
His research interests center on the regulatory biology and chemistry of transition metal receptors involved in signaling, development, homeostasis, detoxification and oxidative stress pathways. His laboratory focuses on molecular mechanisms regulating the uptake, trafficking and utilization of metals essential for growth and proliferation (i.e. zinc, copper and iron), nanoscale drug delivery mechanisms and on the mechanisms of clinically important anticancer agents that are based on arsenic, molybdenum and platinum chemistry.
This work provided early insights into molecular regulatory mechanisms and has led to the discovery of new classes of soluble metal receptors: metalloregulatory and metallochaperone proteins. Most recently, he has discovered nanoscale processes for targeted delivery of multifunctional therapeutic agents for treatment of hematological cancer and solid tumors. Other recent discoveries involve new roles for zinc fluxes in control of the earliest stages of mammalian development.
Related Links

The O'Halloran Group
Website for Professor O'Halloran's Research Group
External links will open in a new browser window