Bioorganic Chemistry Award 2014 Winner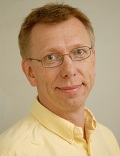 Professor Wilfred van der Donk
University of Illinois at Urbana-Champaign
For his creative work on the chemistry, biosynthesis and mechanistic enzymology of the cyclic peptide and phosphonate classes of antibiotics.
About the Winner
Wilfred van der Donk was born in Culemborg, the Netherlands and received his B.S. and M.S. from Leiden University. He moved to the USA in 1989 to pursue his Ph.D. under Kevin Burgess at Rice University. After postdoctoral work at MIT with JoAnne Stubbe as a Jane Coffin Child fellow, he joined the faculty at the University of Illinois in 1997, where he currently holds the Richard E. Heckert Chair in Chemistry. Since 2008, he is an Investigator of the Howard Hughes Medical Institute.
The research in his laboratory focuses on using organic chemistry and molecular biology to gain a better understanding of the molecular mechanisms of enzyme catalysis. The group is also exploring the utility of enzymes for synthetic purposes. Of particular interests have been enzymatic reactions in the biosynthesis of antibiotics and radical chemistry in proteins such as cyclooxygenase and lipoxygenase.
Professor van der Donk has published more than 200 papers and has been recognized by a number of awards including a Burroughs-Wellcome New Faculty award (1998), Beckman Young Investigator Award (1999), Cottrell Scholar Award (2000), Alfred P. Sloan Fellowship (2001), Camille Dreyfus Teacher-Scholar Award (2002), ACS Pfizer Award (2004), ACS Cope Scholar Award (2006), Tetrahedron Young Investigator Award in Bioorganic & Medicinal Chemistry (2007), and the Jeremy Knowles Award of the Royal Society of Chemistry (2010). He is a fellow of the RSC, the American Academy of Microbiology, and the American Association for the Advancement of Science.
Related Links

Professor van der Donk's Webpage
University of Illinois at Urbana-Champaign
External links will open in a new browser window