Bourke Award 2008-09 Winner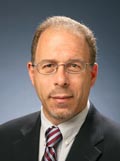 Thomas Rizzo
École Polytechnique Fédérale de Lausanne
Awarded for his seminal contributions to experimental chemical physics, particularly multiple-laser spectroscopy of biological molecules in the gas-phase.
Professor Rizzo visited the UK in October 2009 to deliver his lectures in association with the Bourke Award.


About the winner
Originally from New York, Thomas Rizzo received a Bachelor of Science in Chemistry at Rensselaer Polytechnic Institute in 1978 and a PhD from the University of Wisconsin-Madison in the group of F. F. Crim where he performed state-to-state studies of unimolecular reactions.
In 1983 he moved to the group of D. H. Levy at the University of Chicago to pursue postdoctoral studies on the electronic spectroscopy of gas-phase amino acids. In 1986 he accepted a position of Assistant Professor of Chemistry at the University of Rochester and was promoted to Associate Professor in 1992 and Full Professor the following year. In 1993, he accepted a position at the Ecole Polytechnique Fédérale de Lausanne (EPFL), where he became Professor of Molecular Physical Chemistry. In 1997 he was named Head of the Department of Chemistry and in 2004 became Dean of the School of Basic Sciences.
Thomas Rizzo has received a number of awards, including the Camille and Henry Dreyfus Distinguished New Faculty Award (1986), an Alfred P. Sloan Research Fellowship (1991-3), the Coblentz Society Award in Molecular Spectroscopy (1992) and the Student Association Teacher of the Year Award (1993). He has been a Fellow of the Japan Society for the Promotion of Science (JSPS) and a Fellow of the American Physical Society since 1998.

Related Links

Thomas Rizzo's homepage
Laboratory of Molecular Physical Chemistry at EPFL, Switzerland
External links will open in a new browser window