Centenary Prize 2012 Winner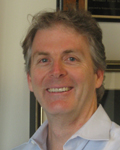 Professor Craig Hawker
University of California
For his outstanding creative development of new strategies for the design of novel polymers which has revolutionised the field of polymer synthesis and influenced a generation of chemists.

About the Winner
Craig J. Hawker is a native of Toowoomba, Australia where he was born in 1964. He received a BSc (1984) degree from the University of Queensland and then obtained his PhD in 1988 from the University of Cambridge under the supervision of Professor Sir Alan R. Battersby where he examined the biosynthesis of Vitamin B12.
This was followed by a post-doctoral fellowship with Professor Jean M.J. Fréchet at Cornell from 1988 to 1990 and a return to the University of Queensland as a Queen Elizabeth II fellow from 1991 to 1993. Craig then returned to the US as a Research Staff Member at the IBM Almaden Research Center from 1993-2004.
In 2005 he moved to the University of California, Santa Barbara where he is the Alan and Ruth Heeger Chair of Interdisciplinary Science and a Professor in the Materials, Chemistry and Biochemistry departments. He is also the Director of the Materials Research Laboratory, founding Director of the Dow Materials Institute and visiting Chair Professor at King Fahd University of Petroleum and Minerals.
Professor Hawker's research activities focus on synthetic polymer chemistry/nanotechnology and integrates fundamental studies with the development of nanostructured materials for advanced properties and functions in microelectronics and biotechnology. Craig has received a number of awards for his work including an Arthur C. Cope Scholar Award (2011), the Macro Group UK International Medal for Outstanding Achievement (2010), the DSM – International Performance Materials Award and in 2010 he was named as a Fellow of the Royal Society.

Related Links

Professor Hawker's Research Group
Hawker Group
External links will open in a new browser window