Charles Rees Award 2012 Winner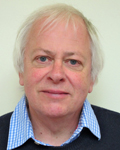 Professor Christopher Moody
University of Nottingham
Awarded in recognition of his numerous outstanding contributions to heterocyclic chemistry, including the synthesis of a variety of heterocycles of biological interest, over a period of many years.
About the Winner
Chris Moody is a Mancunian and was educated at Manchester Grammar School and King's College, London. He carried out his PhD research at the University of Liverpool under the supervision of Charles Rees, and spent a postdoctoral year at the ETH in Zürich working with Albert Eschenmoser, before taking up a post in industry at Roche. In 1979 he was appointed to a lectureship at Imperial College, London, renewing his collaborations with Charles Rees in parallel to establishing an independent research career. In 1990 moved to the chair of organic chemistry at Loughborough University, and in 1996 he was appointed Professor of Organic Chemistry at Exeter. He took up his present post as the Sir Jesse Boot Professor of Chemistry in the University of Nottingham in August 2005.

His research interests centre on the synthesis of biologically active molecules, particularly heterocyclic compounds and quinones. Thus, he has focused on the development of innovative methods for the preparation of heterocyclic rings, and their application in the synthesis of natural products, such as ellipticine, lennoxamine, staurosporine, the calothrixins, virenamide, and a number of carbazole alkaloids. Recently he has completed the first total syntheses of the thiopeptide antibiotics promothiocin A and amythiamicin D. In parallel, he has developed routes to a number of naturally occurring quinones. He is also interested in the metabolism of quinones by reductase enzymes and has developed the first mechanism-based inhibitors of the human quinone reductases NQO1 and NQO2. Some of these quinones are also potent inhibitors of growth of human pancreatic cancer cells, suggesting a potential role for such compounds as therapeutic agents.
Downloadable Files

Moody Research Group
Professor Moody's Research Group
PDF files require

Adobe Acrobat Reader