2018 Chemistry of Transition Metals Award Winner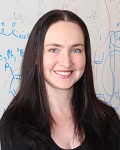 Dr Deborah Kays
University of Nottingham
Awarded for outstanding recent contributions to the development of very low coordinate, electronically unsaturated compounds of the transition metals.
About the Winner
Deborah L. Kays (née Coombs) hails from Penarth, a town in the Vale of Glamorgan, South Wales. She completed her MChem (Hons) and PhD degrees at Cardiff University, the latter under the supervision of Prof. Simon Aldridge (now at the University of Oxford), where she worked on the stabilisation of low-coordinate transition metal complexes of boron. Her PhD was awarded in 2004, and a postdoctoral position, also with Simon Aldridge at Cardiff University, followed. Deborah then moved to the University of Oxford in 2005 to take up a Junior Research Fellowship at Merton College, working alongside Prof. Dermot O'Hare. She was appointed as Lecturer in Inorganic Chemistry at the University of Nottingham in 2007, and promoted to Associate Professor in 2014.
Deborah's research spans both the transition metal and main group elements, where she is primarily concerned with the stabilisation of complexes featuring low-coordinate and highly reactive bonding modes. Due to their unusual coordination geometries and electronic structure these systems are being investigated as stoichiometric and catalytic reagents for their ability to effect unprecedented chemical transformations.
Related Links

Dr Kays' Webpage
University of Nottingham
External links will open in a new browser window