Corday-Morgan Prize 2011 Winner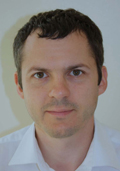 Fred Manby
University of Bristol

Awarded for his contributions to the development of explicitly correlated electronic structure theory, and of electronic structure methods for condensed phases.
About the Winner
Fred Manby is a Professor of Theoretical Chemistry at the University of Bristol.
During his PhD in York, with Dr Graham Doggett, he worked on the extension of spin-coupled valence bond theory to electronic resonance states.
His postdoctoral research in Birmingham was supervised by Prof Peter Knowles, and Manby's interest in explicitly correlated molecular electronic structure theory started during this time. After this period he was a Royal Society University Research Fellow in Bristol, working mainly in the field of molecular electronic structure theory.
Since then his research has focused on two main areas: firstly, on development of efficient and accurate electronic structure methods for large molecules; and secondly, on extension of current theoretical methods from molecules to condensed-phase systems.
His research in molecular electronic structure theory was recognized through the award of the Annual Medal of the International Academy of Quantum Molecular Sciences (2007) and the Marlow Medal of the Royal Society of Chemistry (2006).
Related Links

University of Bristol - Centre of Computational Chemistry
Fred Manby Homepage
External links will open in a new browser window