Corday-Morgan Prize 2011 Winner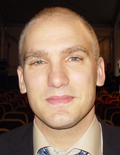 Jonathan Nitschke
University of Cambridge
Awarded for his innovative use of dynamic metal-ligand chemistry to create entirely new functional supramolecular systems in water.

About the Winner
Jonathan Nitschke was born in 1973 in Syracuse, New York.
After graduating from high school in Florida, he received his bachelor's degree in chemistry from Williams College in 1995 and his doctorate from the University of California, Berkeley in 2001 under the supervision of T Don Tilley.
He then undertook postdoctoral studies with Jean-Marie Lehn in Strasbourg under the auspices of a US NSF fellowship, and in 2003 he started his independent research career as a 'maître-assistant' (fixed-term independent PI) in the Organic Chemistry Department of the University of Geneva.
Jonathan was the first recipient of the European Young Chemist Award in August 2006, following a competition at the EuCheMS meeting in Budapest, and won a Swiss National Science Foundation Assistant Professorship in August 2007.
In September 2007 he received the Werner Prize, the top Swiss chemistry prize for an investigator under the age of 40.
In November2007 he was appointed University Lecturer at Cambridge, and in 2010 he was named an EPSRC Leadership Fellow.
His research program investigates the self-assembly of complex, functional structures from simple molecular precursors and metal ions.

Related Links

Nitschke Group - University of Cambridge
Jonathan Nitschke Homepage
External links will open in a new browser window