Corday-Morgan Prize 2012 Winner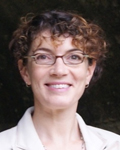 Professor Polly Arnold
University of Edinburgh
For her outstanding contributions to the application of organometallic uranium chemistry to small molecule activation.
About the Winner

Polly obtained a BA from Oxford in 1994 and DPhil in 1997 from Sussex. She was awarded a Fulbright Scholarship for postdoctoral research at MIT, and returned to the UK to a lectureship at the University of Nottingham in 1999.
She moved to the University of Edinburgh in 2007, and was promoted to Chair in 2009. She is also currently an EPSRC Leadership Research Fellow.

Other recent research awards include the Bessel Prize from the Alexander von Humboldt Foundation, the Chancellor's prize of the University of Edinburgh, and the Hans Fischer Senior Fellowship from the Institute of Advanced Study in Munich.

She was elected a Fellow of the Royal Society of Edinburgh earlier this year.

Polly's research is focused on exploratory synthetic chemistry that challenges preconceived ideas of reactivity and bonding, particularly in f-block metal systems. The group is working towards innovative catalytic transformations and in the activation of small, unreactive molecules such as carbon oxides and hydrocarbons. New knowledge about uranium and its neighbours is necessary for the reduction of worldwide nuclear waste legacies and for future fuel design; new catalytic conversions of hydrocarbons and simple carbon oxides will be key enablers for the future renewables-based chemical industry.

Related Links

PLA Group
Professor Arnold's Research Group
External links will open in a new browser window