Corday-Morgan Prize 2012 Winner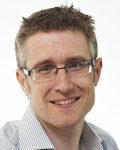 Professor David Smith
University of York
For his signigificant contributions to supramolecular and nanoscale chemistry, specifically to: (i) self-assembling gels and other nanomaterials, (ii) Bioactive multivalent dendrons with applications in nanomedicine.
About the Winner

David Smith carries out research in supramolecular and nanoscale chemistry. He has developed a research programme which aims to gain fundamental insights into molecular recognition processes and dendritic molecular architectures, then apply this knowledge to create self-assembled nanomaterials and nanomedicines. In particular, he has been interested in highly responsive soft gel-phase materials, and self-assembled systems capable of binding to nanoscale biological targets such as DNA and heparin - research for which he was awarded the Bob Hay lectureship in 2011.

The foundations to Dave's research were laid following his undergraduate studies at The University of Oxford, when he carried out his DPhil with Professor Paul Beer. He was then a Royal Society European Research fellow in the laboratories of Professor Francois Diederich at ETH Zurich. Since 1999, Dave has worked at The University of York, where he was promoted from lecturer to senior lecturer, and then in 2006 to a Personal Chair.

Dave is also passionate about chemical education and the communication of science. In 2004, he was awarded the Royal Society of Chemistry Higher Education Teaching Award for his innovative work with undergraduates. He has given outreach lectures on medicinal chemistry to well over 30,000 school students across the UK, as well as developing his own YouTube channel to communicate the wonders of organic chemistry, which currently has well over 200,000 video views.
Related Links

Professor Smith's webpage
University of York
External links will open in a new browser window