Corday-Morgan Prize 2015 Winner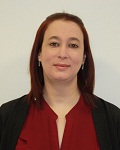 Professor Sharon Ashbrook
University of St Andrews
Awarded for her contribution to the structure of materials combining solid-state NMR spectroscopy and first-principles calculations
About the Winner
Sharon Ashbrook is currently Professor of Physical Chemistry at the University of St Andrews. Following a DPhil at the University of Oxford. (2001), she completed postdoctoral work at the University of Exeter, before being awarded a Royal Society Dorothy Hodgkin Fellowship in 2003 which she held at the Department of Earth Sciences, University of Cambridge. During this time she also held the Charles and Katherine Darwin Research Fellowship at Darwin College. From October 2005, she was appointed as an RCUK Academic Fellow in the School of Chemistry at the University of St Andrews, and was promoted to Reader in 2009 and Professor in 2013.
Her research focuses on the application of multinuclear solid-state NMR spectroscopy techniques and, most recently, their combination with first-principles DFT calculations to investigate structure, disorder and dynamics in the solid state. Areas of current interest include microporous frameworks solids, ceramics for waste encapsulation and high-pressure silicates from the inner Earth.
She has published over 120 journal articles and 4 book chapters in this area. She was awarded the RSC Harrison Prize (2004), Marlow Award (2011) and the RSE MakDougall Brisbane Medal (2012). She is a member of the Facility Executive of the UK 850 MHz Solid State NMR Facility, a member of the RSE Young Academy of Scotland, and Director of the Centre of Magnetic Resonance in St Andrews. She was a member of the 2014 Hong Kong Physical Sciences RAE panel.
Related Links

Professor Ashbrook's webpage
University of St Andrews
External links will open in a new browser window