Corday-Morgan Prize 2017 Winner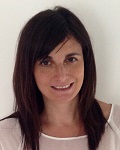 Professor Eva Hevia
University of Strathclyde
Awarded for her research on polar organometallic chemistry and in particular important contributions towards air- and moisture-tolerant synthesis
About the Winner
Originally from Gijon (Spain), Eva Hevia is currently a Professor in Inorganic Chemistry at the University of Strathclyde. Research in her group focuses on applying polar organometallic reagents incorporating cooperative effects to key organic transformations. Recently she had made important advances in both the activation of N-heterocyclic molecules and Green Chemistry, including the first applications of polar organometallics in Deep Eutectic Solvents (DESs) as well as developing new s-block-based metal catalysts.
Eva received both her MSci degree in Chemistry and her Ph.D. degree from the Universidad de Oviedo (Spain) in 1998 and 2002 respectively. The latter was under the supervision of Professor Victor Riera and Dr Julio Perez. After a three-year position at the University of Strathclyde working as a Marie Curie Fellow with Professor Robert Mulvey, in 2006 she took up a Royal Society University Research Fellowship and Lectureship there. Subsequently she was promoted to Senior Lecturer in 2010, Reader in 2011 and to Professor in 2013.
Eva has authored over 110 peer-reviewed papers to date and her research has been recognised with the RSC Harrison-Meldola Memorial Medal and Prize (2009) and the Sigma-Aldrich Emerging Investigators Award (2011) from the Spanish Royal Society of Chemistry (RSEQ). She was also awarded an ERC Starter Grant in 2011. A member of the RSE Young Academy of Scotland and the International Advisory Board of the European Journal of Inorganic Chemistry, Eva was the recipient of the inaugural edition of the SRUK Emerging Talent Award in 2016, which honours the most promising Spanish scientist researching in the UK under the age of 40.

Related Links

Professor Hevia's Webpage
University of Strathclyde
External links will open in a new browser window